Beschrijving
Een variabel grijsfilter (ook wel ND filter of ND2-400 filter genoemd) is ontzettend handig om te gebruiken als je met langere sluitertijden wilt fotograferen. Dit donkere filter houdt licht tegen waardoor een langere sluitertijd mogelijk is zonder overbelichting te krijgen in de foto's. Dit variabele grijsfilter is gemaakt van de hoogste kwaliteit glas (B270 Schott glas uit Duitsland) en kun je instellen van 2 stops t/m 8 stops. Oftewel, het is mogelijk om de sluitertijd 8x te verdubbelen. Het filterglas is afgewerkt met meerdere coatings (MRC) zodat licht minimaal reflecteert en de fotokwaliteit niet negatief wordt beïnvloed. Lees hieronder meer over het nut van een variabel grijsfilter en de kwaliteit die wij leveren.
MIJN FILTERMAAT OPZOEKEN
Kenmerken van onze variabele ND / grijsfilters
Leverbaar in: 52mm, 55mm, 58mm, 62mm, 67mm, 72mm, 77mm, 82mm
Inclusief: Opbergcase + gratis lensdoekje
Glas: B270 Schott
Coating: Multi coating / Anti-reflectie HD
Vergelijkbaar met: B+W Vario ND filters en Rodenstock Vario ND filters
Wat doet een ND / Grijsfilter?
Het doel van een grijsfilter is licht tegenhouden. Een grijsfilter is gemaakt van donker glas wat ervoor zorgt dat er minder licht via de lens op de camerasensor terecht komt. Hierdoor kun je foto's maken met een langere sluitertijd en dat kan mooie resultaten opleveren. Mooie effecten zijn dat golvend water helemaal glad trekt en wolken krijgen een uitgeveegd effect.
Hieronder vind je voorbeelden van foto's gemaakt met het variabele grijsfilter van RAWSTER Photo. Behalve het effect in het water versterkt het ook de kleuren.
| | |
| --- | --- |
| | |
| Sluitertijd 1/10 sec. (zonder variabel grijsfilter) | Sluitertijd 1/2.5 sec. (variabel grijsfilter op 2 stops) |
| | |
| Sluitertijd 1.5 sec. (variabel grijsfilter op 4 stops) | Sluitertijd 6 sec. (variabel grijsfilter op 6 stops) |
Wat is het verschil tussen een variabel grijsfilter en 10 stops grijsfilter?
In het kort kan je het beste een variabel grijsfilter gebruiken als je de sluitertijd wilt verlengen in een omgeving waar niet zoveel licht aanwezig is. Denk aan een schemerige situatie of bij het fotograferen van een watervalletje in een bos. Op een zonnige dag heb je een iets donkerder grijsfilter nodig om het echte lange sluitertijd effect te zien. Hiervoor kan je een 10 stops grijsfilter gebruiken.

Er zijn zoveel soorten grijsfilters, wat is het verschil?
Ronde opschroeffilters en filtersystemen
Ten eerste heb je de keuze uit ronde opschroef grijsfilters (die wij hier verkopen) of complete filtersystemen waarbij je een adapterring, filterhouder en vierkante filters nodig hebt. Als je wilt beginnen met lange sluitertijd fotografie en je weet nog niet zeker hoe vaak je een grijsfilter gaat gebruiken, is het aan te raden om een opschroef grijsfilter te gebruiken. De reden hiervoor is simpel, het is vele malen gekopen. Je bent al snel 200 euro kwijt als je een filtersysteem wilt kopen van redelijke kwaliteit.
Normaal grijsfilter of variabel grijsfilter
Je kunt ervoor kiezen om een normaal grijsfilter te kopen. Zo'n filter heeft één bepaalde sterkte en houdt dus een X aantal stops licht tegen. Als je weet met wat voor filter je graag fotografeert dan is dat een goede keuze (wij verkopen ook 10 stops grijsfilters). Echter als je dit niet weet en je wilt graag variëren in het aantal stops dan is het aan te raden om met een variabel grijsfilter te werken.
Wat is de betekenis van de term stops?
Het woord stops kwam hierboven al enkele malen naar voren. Binnen de fotografie spreek je over 1 stop als je de hoeveelheid licht die door de lens gaat halveert of verdubbeld. Dit kun je doen door de sluitertijd te verdubbelen of te halveren. Bij 2 stops verdubbel of halveer je de sluitertijd dus 2x. Met het variabele ND filter die je bij ons kunt kopen kun jezelf variëren tussen 2 en 8 stops. Stel een foto wordt zonder filter gemaakt met 1/60 van een seconde. Met 8 stops wordt de sluitertijd dan opeens 4 seconden:
1/60 sec. –> 1/30 sec. –> 1/15 sec. –> 1/8 sec. –> 1/4 sec. –> 1/2 sec. –> 1 sec. –> 2 sec. –> 4 sec.
Hoe kan ik een goed variabel grijsfilter herkennen?
Dit is vaak af te leiden uit de naam/afkortingen van het filter.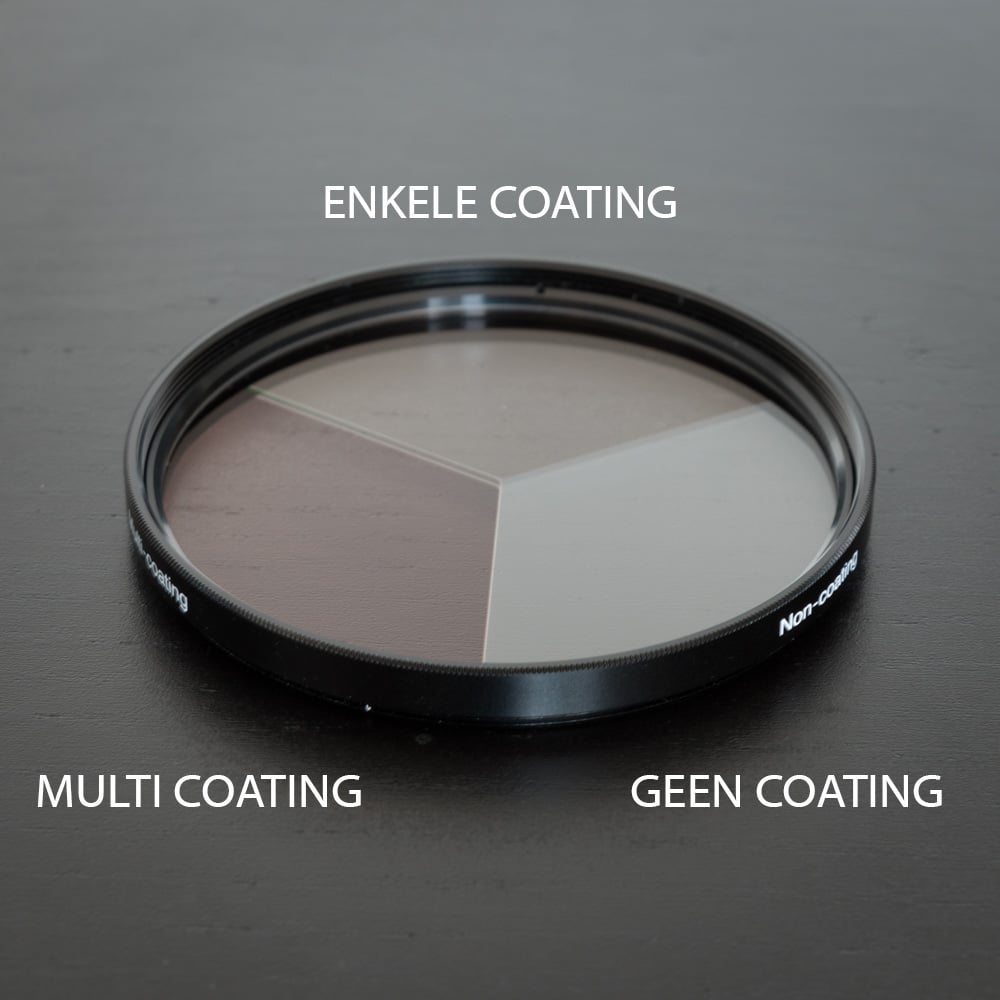 Zo is het belangrijk dat er coatings op het glas zitten. Dit wordt bij veel merken aangeduid met de afkorting HMC of MRC. Echter gaat dit alleen over de coatings en niet over de kwaliteit van het glas. Meestal is er op het doosje van het filter niet terug te vinden van welk soort glas een variabel grijsfilter gemaakt is waardoor de kwaliteit van het filter moeilijk te beoordelen is als consument.
Het filter aan de rechterzijde is een speciaal filter (weliswaar een UV filter) waarin het verschil tussen geen coating, een enkele coating en multi coating te zien is. Zoals je kunt zien is dat verschil al enorm en is het absoluut aan te raden om een multi coated filter te kopen. Een variabel grijsfilter met geen of slechts één coating zal de kwaliteit van de foto negatief beïnvloeden.
Kan ik dit variabele ND filter ook op groothoekobjectieven gebruiken
Dit is zeker mogelijk. Wij hebben het getest op full frame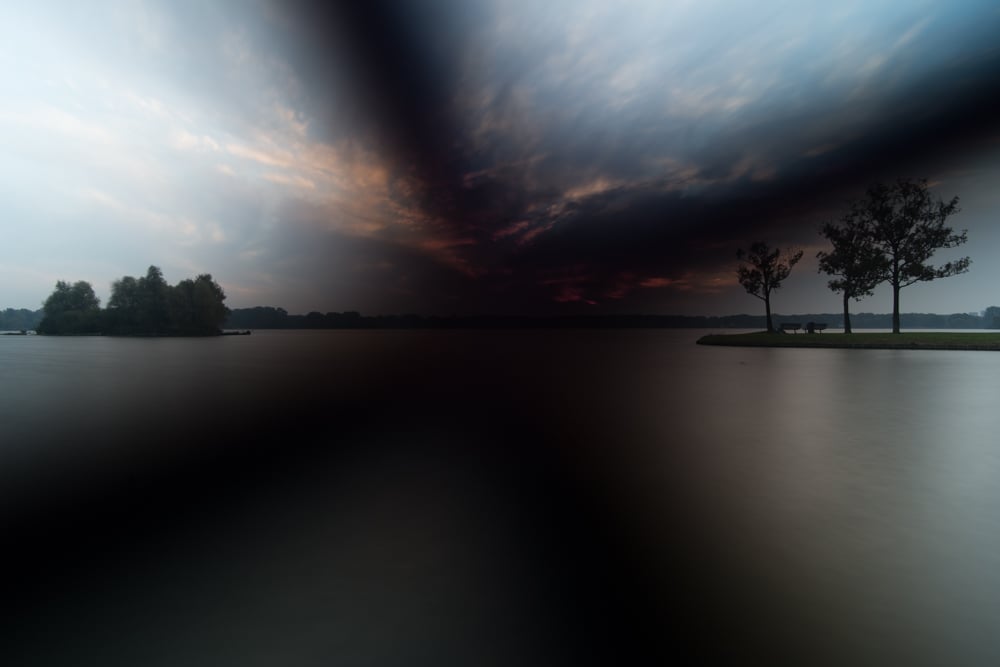 camera's vanaf 16mm en op APS-C camera's vanaf 10mm. Dit gaf geen donkere hoeken wat wel vaak voorkomt bij variabele ND filters. Waar je wel rekening mee moet houden (en dat is bij alle merken variabele grijsfilters zo) is dat je een zwart kruis door het beeld krijgt indien je op 7 à 8 stops fotografeert. Dit heb je met name in het groothoekbereik. Naar mate je verder inzoomt komt het minder snel naar voren. Een voorbeeld van het zwarte kruis vind je aan de rechterzijde.
Waarom zijn deze variabele grijsfilters goedkoper dan vergelijkbare variabele grijsfilters?
Hierboven was al te lezen dat de kwaliteit van deze variabel grijsfilters vergelijkbaar zijn met B+W Vario grijsfilters en Rodenstock Vario filters. Voor deze filters betaal je echter al snel de dubbele prijs. Waarom zijn deze filters dan toch zoveel goedkoper?
De reden hiervoor is simpel. Aangezien wij rechtstreekse contacten hebben met fabrikanten van variabele grijsfilters hebben wij besloten om een eigen merk te laten maken. Wij verkopen deze direct via onze website zonder tussenkomst van andere partijen. Hierdoor kan de prijs veel lager blijven en kan iedere (hobby)fotograaf een topkwaliteit variabel grijsfilter kopen voor een scherpe prijs.
GRIJSFILTER
DIRECT BESTELLEN
Welke filtermaat heb ik nodig?
Weet je niet welke filtermaat je nodig hebt? Dit is op de lens te vinden achter het diamater icoontje ⌀. Kun je het niet vinden? Gebruik dan onze filtermaat database. Vul bij 'zoeken' het merk van de cameralens in gevolgd door de brandpuntsafstand, zoals '18-55′ of '70-300′. Stuur ons een bericht via het contactformulier als je lens hier niet tussen staat.
| Merk | Type lens | Filtermaat |
| --- | --- | --- |
| Olympus | Olympus M.Zuiko Digital ED 75mm f/1.8 Lens (Silver) | 58mm |
| Olympus | Olympus M.Zuiko Digital ED 12-100mm f/4 IS PRO Lens | 72mm |
| Olympus | Olympus M.Zuiko Digital ED 75-300mm f/4.8-6.7 II Lens | 58mm |
| Sony | Sony 100mm f/2.8 Macro Lens | 55mm |
| Sony | Sony 135mm f/2.8 STF Lens | 72mm |
| Sony | Sony 20mm f/2.8 Lens | 72mm |
| Sony | Sony 28-75mm f/2.8 SAM Lens | 67mm |
| Sony | Sony 300mm f/2.8 G SSM II Lens | 42mm |
| Sony | Sony 35mm f/1.4 G Lens | 55mm |
| Sony | Sony 500mm f/4 G SSM Lens | 42mm |
| Sony | Sony 50mm f/1.4 Lens | 55mm |
| Sony | Sony 50mm f/2.8 Macro Lens | 55mm |
| Sony | Sony 70-200mm f/2.8 G SSM II Lens | 77mm |
| Sony | Sony 70-300mm f/4.5-5.6 G SSM II Lens | 62mm |
| Sony | Sony 70-400mm f/4-5.6 G SSM II Lens | 77mm |
| Sony | Sony 85mm f/2.8 SAM Lens | 55mm |
| Sony | Sony Distagon T* FE 35mm f/1.4 ZA Lens | 72mm |
| Sony | Sony DT 11-18mm f/4.5-5.6 Lens | 77mm |
| Sony | Sony DT 16-50mm f/2.8 SSM Lens | 72mm |
| Sony | Sony DT 16-105mm f/3.5-5.6 Lens | 62mm |
| Sony | Sony DT 18-135mm f/3.5-5.6 SAM Lens | 62mm |
| Sony | Sony DT 18-250mm f/3.5-6.3 Lens | 62mm |
| Sony | Sony DT 55-300mm f/4.5-5.6 SAM Lens | 62mm |
| Sony | Sony DT 18-55mm f/3.5-5.6 SAM II Lens | 55mm |
| Sony | Sony DT 35mm f/1.8 SAM Lens | 55mm |
| Sony | Sony DT 55-200mm f/4-5.6 SAM Lens | 55mm |
| Sony | Sony DT 50mm f/1.8 SAM Lens | 49mm |
| Sony | Sony DT 30mm f/2.8 Macro SAM Lens | 49mm |
| Sony | Sony E PZ 18-110mm f/4 G OSS Lens | 95mm |
| Sony | Sony E PZ 18-105mm f/4 G OSS Lens | 72mm |
| Sony | Sony E 18-200mm f/3.5-6.3 OSS Lens | 67mm |
| Sony | Sony E PZ 18-200mm f/3.5-6.3 OSS Lens | 67mm |
| Sony | Sony E 10-18mm f/4 OSS Lens | 62mm |
| Sony | Sony E 18-200mm f/3.5-6.3 OSS LE Lens | 62mm |
| Sony | Sony E 18-135mm f/3.5-5.6 OSS Lens | 55mm |
| Sony | Sony E 16mm f/2.8 Lens (Silver) | 49mm |
| Sony | Sony E 20mm f/2.8 Lens | 49mm |
| Sony | Sony E 30mm f/3.5 Macro Lens | 49mm |
| Sony | Sony E 35mm f/1.8 OSS Lens | 49mm |
| Sony | Sony E 50mm f/1.8 OSS Lens (Zwart) | 49mm |
| Sony | Sony E 50mm f/1.8 OSS Lens (Zilver) | 49mm |
| Sony | Sony E 55-210mm f/4.5-6.3 OSS Lens (Zwart) | 49mm |
| Sony | Sony E 55-210mm f/4.5-6.3 OSS Lens (Zilver) | 49mm |
| Sony | Sony E PZ 16-50mm f/3.5-5.6 OSS Lens | 40.5mm |
| Sony | Sony FE 400mm f/2.8 GM OSS Lens | 40.5mm |
| Sony | Sony FE PZ 28-135mm f/4 G OSS Lens | 95mm |
| Sony | Sony FE 16-35mm f/2.8 GM Lens | 82mm |
| Sony | Sony FE 24-70mm f/2.8 GM Lens | 82mm |
| Sony | Sony FE 100-400mm f/4.5-5.6 GM OSS Lens | 77mm |
| Sony | Sony FE 24-105mm f/4 G OSS Lens | 77mm |
| Sony | Sony FE 85mm f/1.4 GM Lens | 77mm |
| Sony | Sony FE 70-200mm f/2.8 GM OSS Lens | 77mm |
| Sony | Sony FE 100mm f/2.8 STF GM OSS Lens | 72mm |
| Sony | Sony FE 24-240mm f/3.5-6.3 OSS Lens | 72mm |
| Sony | Sony FE 70-300mm f/4.5-5.6 G OSS Lens | 72mm |
| Sony | Sony FE 70-200mm f/4 G OSS Lens | 72mm |
| Sony | Sony FE 24mm f/1.4 GM Lens | 67mm |
| Sony | Sony FE 85mm f/1.8 Lens | 67mm |
| Sony | Sony FE 90mm f/2.8 Macro G OSS Lens | 62mm |
| Sony | Sony FE 28-70mm f/3.5-5.6 OSS Lens | 55mm |
| Sony | Sony FE 50mm f/2.8 Macro Lens | 55mm |
| Sony | Sony FE 28mm f/2 Lens | 49mm |
| Sony | Sony FE 50mm f/1.8 Lens | 49mm |
| Sony | Sony Planar T* FE 50mm f/1.4 ZA Lens | 72mm |
| Sony | Sony Planar T* 50mm f/1.4 ZA SSM Lens | 72mm |
| Sony | Sony Planar T* 85mm f/1.4 ZA Lens | 72mm |
| Sony | Sony Sonnar T* 135mm f/1.8 ZA Lens | 77mm |
| Sony | Sony Sonnar T* E 24mm f/1.8 ZA Lens | 49mm |
| Sony | Sony Sonnar T* FE 55mm f/1.8 ZA Lens | 49mm |
| Sony | Sony Sonnar T* FE 35mm f/2.8 ZA Lens | 49mm |
| Sony | Sony Vario-Sonnar T* 16-35mm f/2.8 ZA SSM II Lens | 77mm |
| Sony | Sony Vario-Sonnar T* 24-70mm f/2.8 ZA SSM II Lens | 77mm |
| Sony | Sony Vario-Sonnar T* DT 16-80mm f/3.5-4.5 ZA Lens | 62mm |
| Sony | Sony Vario-Tessar T* FE 16-35mm f/4 ZA OSS Lens | 72mm |
| Sony | Sony Vario-Tessar T* FE 24-70mm f/4 ZA OSS Lens | 67mm |
| Sony | Sony Vario-Tessar T* E 16-70mm f/4 ZA OSS Lens | 55mm |
| Canon | Canon CN-E 18-80mm T4.4 COMPACT-SERVO Cinema Zoom Lens (EF Mount) | 77mm |
| Canon | Canon CN-E 15.5-47mm T2.8 L SP Wide-Angle Cinema Zoom Lens with PL Mount | 105mm |
| Canon | Canon CN-E 15.5-47mm T2.8 L S Wide-Angle Cinema Zoom Lens with EF Mount | 105mm |
| Canon | Canon CN-E 20mm T1.5 L F Cinema Prime Lens (EF Mount) | 105mm |
| Canon | Canon CN-E 30-105mm T2.8 L SP Telephoto Cinema Zoom Lens with PL Mount | 105mm |
| Canon | Canon CN-E 30-105mm T2.8 L S Telephoto Cinema Zoom Lens with EF Mount | 105mm |
| Canon | Canon EF 300mm f/2.8L IS II USM Lens | 52mm |
| Canon | Canon EF 200-400mm f/4L IS USM Extender 1.4x Lens | 52mm |
| Canon | Canon EF 400mm f/2.8L IS III USM Lens | 52mm |
| Canon | Canon EF 400mm f/4 DO IS II USM Lens | 52mm |
| Canon | Canon EF 500mm f/4L IS II USM Lens | 52mm |
| Canon | Canon EF 600mm f/4L IS III USM Lens | 52mm |
| Canon | Canon EF 600mm f/4L IS II USM Lens | 52mm |
| Canon | Canon EF 800mm f/5.6L IS USM Lens | 52mm |
| Canon | Canon EF 200-400mm f/4L IS USM Extender 1.4x Lens | 52mm |
| Canon | Canon EF 200mm f/2L IS USM Lens | 52mm |
| Canon | Canon EF 16-35mm f/2.8L III USM Lens | 82mm |
| Canon | Canon EF 16-35mm f/2.8L II USM Lens | 82mm |
| Canon | Canon EF 24-70mm f/2.8L II USM LensCanon EF 16-35mm f/4L IS USM Lens | 82mm |
| Canon | Canon EF 28-300mm f/3.5-5.6L IS USM Lens | 77mm |
| Canon | Canon EF 70-200mm f/2.8L USM Lens | 77mm |
| Canon | Canon EF 70-200mm f/2.8L IS III USM Lens | 77mm |
| Canon | Canon EF 100-400mm f/4.5-5.6L IS II USM Lens | 77mm |
| Canon | Canon EF 24-105mm f/3.5-5.6 IS STM Lens | 77mm |
| Canon | Canon EF 24-105mm f/4L IS II USM Lens | 77mm |
| Canon | Canon EF 24-105mm f/4L IS USM Lens | 77mm |
| Canon | Canon EF 24-105mm f/4L IS USM Lens (White Box) | 77mm |
| Canon | Canon EF 24-105mm f/4L IS USM Lens (White Box) | 77mm |
| Canon | Canon EF 24-70mm f/4L IS USM Lens | 77mm |
| Canon | Canon EF 16-35mm f/4L IS USM Lens | 77mm |
| Canon | Canon EF 24mm f/1.4L II USM Lens | 77mm |
| Canon | Canon EF 300mm f/4L IS USM Lens | 77mm |
| Canon | Canon EF 400mm f/5.6L USM Lens | 77mm |
| Canon | Canon EF 70-200mm f/2.8L IS II USM Lens | 77mm |
| Canon | Canon EF 85mm f/1.4L IS USM Lens | 77mm |
| Canon | Canon EF 17-40mm f/4L USM Lens | 77mm |
| Canon | Canon EF 200mm f/2.8L II USM Lens | 72mm |
| Canon | Canon EF 20mm f/2.8 USM Lens | 72mm |
| Canon | Canon EF 35mm f/1.4L II USM Lens | 72mm |
| Canon | Canon EF 50mm f/1.2L USM Lens | 72mm |
| Canon | Canon EF 70-200mm f/4L IS II USM Lens | 72mm |
| Canon | Canon EF 85mm f/1.2L II USM Lens | 72mm |
| Canon | Canon EF 135mm f/2L USM Lens | 72mm |
| Canon | Canon EF 180mm f/3.5L Macro USM Lens | 72mm |
| Canon | Canon EF 35mm f/2 IS USM Len | 67mm |
| Canon | Canon EF 70-200mm f/4L USM Lens | 67mm |
| Canon | Canon EF 70-300mm f/4-5.6 IS II USM Lens | 67mm |
| Canon | Canon EF 70-300mm f/4-5.6L IS USM Lens | 67mm |
| Canon | Canon EF 100mm f/2.8L Macro IS USM Lens | 67mm |
| Canon | Canon EF 70-200mm f/4L IS USM Lens | 67mm |
| Canon | Canon EF 100mm f/2.8 Macro USM Lens | 58mm |
| Canon | Canon EF 100mm f/2 USM Lens | 58mm |
| Canon | Canon EF 24mm f/2.8 IS USM Lens | 58mm |
| Canon | Canon EF 28mm f/1.8 USM Lens | 58mm |
| Canon | Canon EF 28mm f/2.8 IS USM Lens | 58mm |
| Canon | Canon EF 50mm f/1.4 USM Lens | 58mm |
| Canon | Canon EF 70-300mm f/4-5.6 IS USM Lens | 58mm |
| Canon | Canon EF 75-300mm f/4-5.6 III Lens | 58mm |
| Canon | Canon EF 75-300mm f/4-5.6 III USM Lens | 58mm |
| Canon | Canon EF 85mm f/1.8 USM Lens | 58mm |
| Canon | Canon EF 40mm f/2.8 STM Lens | 52mm |
| Canon | Canon EF 50mm f/1.8 STM Lens | 49mm |
| Canon | Canon EF-M 11-22mm f/4-5.6 IS STM Lens | 55mm |
| Canon | Canon EF-M 18-150mm f/3.5-6.3 IS STM Lens (Graphite) | 55mm |
| Canon | Canon EF-M 55-200mm f/4.5-6.3 IS STM Lens (Zwart) | 52mm |
| Canon | Canon EF-M 15-45mm f/3.5-6.3 IS STM Lens | 49mm |
| Canon | Canon EF-M 15-45mm f/3.5-6.3 IS STM Lens (Graphite) | 49mm |
| Canon | Canon EF-M 32mm f/1.4 STM Lens | 43mm |
| Canon | Canon EF-M 22mm f/2 STM Lens (Zilver) | 43mm |
| Canon | Canon EF-M 22mm f/2 STM Lens | 43mm |
| Canon | Canon EF-S 10-22mm f/3.5-4.5 USM Lens | 77mm |
| Canon | Canon EF-S 17-55mm f/2.8 IS USM Lens | 77mm |
| Canon | Canon EF-S 15-85mm f/3.5-5.6 IS USM Lens | 72mm |
| Canon | Canon EF-S 18-200mm f/3.5-5.6 IS Lens | 72mm |
| Canon | Canon EF-S 10-18mm f/4.5-5.6 IS STM Lens | 67mm |
| Canon | Canon EF-S 17-85mm f/4-5.6 IS USM Lens | 67mm |
| Canon | Canon EF-S 18-135mm f/3.5-5.6 IS STM Lens (In de witte doos) | 67mm |
| Canon | Canon EF-S 18-135mm f/3.5-5.6 IS Lens | 67mm |
| Canon | Canon EF-S 18-135mm f/3.5-5.6 IS USM Lens | 67mm |
| Canon | Canon EF-S 18-55mm f/3.5-5.6 IS II Lens | 58mm |
| Canon | Canon EF-S 55-250mm f/4-5.6 IS II Lens | 58mm |
| Canon | Canon EF-S 55-250mm f/4-5.6 IS II Lens | 58mm |
| Canon | Canon EF-S 55-250mm f/4-5.6 IS STM Lens | 58mm |
| Canon | Canon EF-S 24mm f/2.8 STM Lens | 52mm |
| Canon | Canon EF-S 60mm f/2.8 Macro USM Lens | 52mm |
| Canon | Canon EF-S 35mm f/2.8 Macro IS STM Lens | 49mm |
| Canon | Canon MP-E 65mm f/2.8 1-5x Macro Photo Lens | 58mm |
| Canon | Canon RF 28-70mm f/2L USM Lens | 95mm |
| Canon | Canon RF 24-105mm f/4L IS USM Lens | 77mm |
| Canon | Canon RF 50mm f/1.2L USM Lens | 77mm |
| Canon | Canon RF 35mm f/1.8 IS Macro STM Lens | 52mm |
| Canon | Canon TS-E 24mm f/3.5L II Tilt-Shift Lens | 82mm |
| Canon | Canon TS-E 135mm f/4L Macro Tilt-Shift Lens | 82mm |
| Canon | Canon TS-E 50mm f/2.8L Macro Tilt-Shift Lens | 77mm |
| Canon | Canon TS-E 90mm f/2.8L Macro Tilt-Shift Lens | 77mm |
| Canon | Canon TS-E 45mm f/2.8 Tilt-Shift Lens | 72mm |
| Canon | Canon TS-E 90mm f/2.8 Tilt-Shift Lens | 58mm |
| Fujifilm | Fujifilm GF 23mm f/4 R LM WR Lens | 82mm |
| Fujifilm | Fujifilm GF 250mm f/4 R LM OIS WR Lens | 82mm |
| Fujifilm | Fujifilm GF 110mm f/2 R LM WR Lens | 77mm |
| Fujifilm | Fujifilm GF 32-64mm f/4 R LM WR Lens | 77mm |
| Fujifilm | Fujifilm GF 120mm f/4 Macro R LM OIS WR Lens | 72mm |
| Fujifilm | Fujifilm GF 100-200mm f/5.6 R LM OIS WR Lens | 67mm |
| Fujifilm | Fujifilm GF 45mm f/2.8 R WR Lens | 62mm |
| Fujifilm | Fujifilm GF 63mm f/2.8 R WR Lens | 62mm |
| Fujifilm | Fujifilm MKX18-55mm T2.9 Lens (Fuji X-Mount) | 82mm |
| Fujifilm | Fujifilm MKX50-135mm T2.9 Lens (Fuji X-Mount) | 82mm |
| Fujifilm | Fujifilm XC 50-230mm f/4.5-6.7 OIS II Lens (Zwart) | 58mm |
| Fujifilm | Fujifilm XC 15-45mm f/3.5-5.6 OIS PZ Lens (Zwart) | 52mm |
| Fujifilm | Fujifilm XC 15-45mm f/3.5-5.6 OIS PZ Lens (Zilver) | 52mm |
| Fujifilm | Fujifilm XF 16-55mm f/2.8 R LM WR Lens | 77mm |
| Fujifilm | Fujifilm XF 100-400mm f/4.5-5.6 R LM OIS WR Lens | 77mm |
| Fujifilm | Fujifilm XF 10-24mm f/4 R OIS Lens | 72mm |
| Fujifilm | Fujifilm XF 50-140mm f/2.8 R LM OIS WR Lens | 72mm |
| Fujifilm | Fujifilm XF 16mm f/1.4 R WR Lens | 67mm |
| Fujifilm | Fujifilm XF 18-135mm f/3.5-5.6 R LM OIS WR Lens | 67mm |
| Fujifilm | Fujifilm XF 23mm f/1.4 R Lens | 62mm |
| Fujifilm | Fujifilm XF 55-200mm f/3.5-4.8 R LM OIS Lens | 62mm |
| Fujifilm | Fujifilm XF 56mm f/1.2 R Lens | 62mm |
| Fujifilm | Fujifilm XF 56mm f/1.2 R APD Lens | 62mm |
| Fujifilm | Fujifilm XF 80mm f/2.8 R LM OIS WR Macro Lens | 62mm |
| Fujifilm | Fujifilm XF 90mm f/2 R LM WR Lens | 62mm |
| Fujifilm | Fujifilm XF 18-55mm f/2.8-4 R LM OIS Lens | 58mm |
| Fujifilm | Fujifilm XF 35mm f/1.4 R Lens | 52mm |
| Fujifilm | Fujifilm XF 50mm f/2 R WR Lens (Black) | 46mm |
| Fujifilm | Fujifilm XF 50mm f/2 R WR Lens (Silver) | 46mm |
| Fujifilm | Fujifilm XF 23mm f/2 R WR Lens (Silver) | 43mm |
| Fujifilm | Fujifilm XF 35mm f/2 R WR Lens (Zwart) | 43mm |
| Fujifilm | Fujifilm XF 35mm f/2 R WR Lens (Zilver) | 43mm |
| Fujifilm | Fujifilm XF 23mm f/2 R WR Lens (Zwart) | 43mm |
| Fujifilm | Fujifilm XF 27mm f/2.8 Lens (Zwart) | 39mm |
| Fujifilm | Fujifilm XF 27mm f/2.8 Lens (Zilver) | 39mm |
| Fujifilm | Fujifilm XF 60mm f/2.4 R Macro Lens | 39mm |
| Fujifilm | Fujifilm XF 200mm f/2 R LM OIS WR Lens with XF 1.4x TC F2 WR Teleconverter Kit | 105mm |
| Fujifilm | Fujinon MK18-55mm T2.9 Lens (Sony E Mount) | 82mm |
| Fujifilm | Fujinon MK50-135mm T2.9 Lens (Sony E Mount) | 82mm |
| Fujifilm | Fujinon ZK14-35mm T2.9 Cabrio Premier Lens (PL Mount) | M111 |
| Fujifilm | Fujinon ZK19-90mm T2.9 Cabrio Premier Lens (PL Mount) | M111 |
| Leica | Leica 120mm f/5.6 TS-APO-Elmar-S ASPH. Lens | 92mm |
| Leica | Leica 24mm f/3.5 Super-Elmar-S ASPH. Lens | 92mm |
| Leica | Leica 30-90mm f/3.5-5.6 Vario-Elmar-S ASPH. Lens | 92mm |
| Leica | Leica APO-Macro-Elmarit-TL 60mm f/2.8 ASPH. Lens (Zwart) | 60mm |
| Leica | Leica APO-Macro-Elmarit-TL 60mm f/2.8 ASPH. Lens (Zilver) | 60mm |
| Leica | Leica APO-Macro-Summarit-S 120mm f/2.5 Lens | 72mm |
| Leica | Leica APO-Macro-Summarit-S 120mm f/2.5 CS Lens | 72mm |
| Leica | Leica APO-Summicron-M 90mm f/2 ASPH. Lens | 55mm |
| Leica | Leica APO-Summicron-M 75mm f/2 ASPH. Lens | 49mm |
| Leica | Leica APO-Summicron-M 50mm f/2 ASPH. Lens (Silver Anodized) | 39mm |
| Leica | Leica APO-Summicron-M 50mm f/2 ASPH. Lens (Zwart) | 39mm |
| Leica | Leica APO-Summicron-SL 75mm f/2 ASPH. Lens | 67mm |
| Leica | Leica APO-Tele-Elmar-S 180mm f/3.5 Lens | 72mm |
| Leica | Leica APO-Tele-Elmar-S 180mm f/3.5 CS Lens | 72mm |
| Leica | Leica APO-Telyt-M 135mm f/3.4 Lens | 49mm |
| Leica | Leica APO-Vario-Elmarit-SL 90-280mm f/2.8-4 Lens | 82mm |
| Leica | Leica APO-Vario-Elmar-T 55-135mm f/3.5-4.5 ASPH Lens | 60mm |
| Leica | Leica Elmarit-M 28mm f/2.8 ASPH. Lens | 39mm |
| Leica | Leica Elmarit-S 30mm f/2.8 ASPH CS Lens | 82mm |
| Leica | Leica APO-Summicron-SL 90mm f/2 ASPH. Lens | 67mm |
| Leica | Leica Elmarit-S 45mm f/2.8 ASPH Lens | 82mm |
| Leica | Leica Elmarit-S 45mm f/2.8 ASPH CS Lens | 82mm |
| Leica | Leica Elmarit-TL 18 mm f/2.8 ASPH. Lens (Zwart) | 39mm |
| Leica | Leica Elmarit-TL 18 mm f/2.8 ASPH. Lens (Zilver) | 39mm |
| Leica | Leica Elmar-M 24mm f/3.8 ASPH. Lens | 46mm |
| Leica | Leica Macro-Elmar-M 90mm f/4 Lens | 39mm |
| Leica | Leica Noctilux-M 75mm f/1.25 ASPH. Lens | 67mm |
| Leica | Leica Noctilux-M 50mm f/0.95 ASPH. Lens (Zilver) | 60mm |
| Leica | Leica Noctilux-M 50mm f/0.95 ASPH. Lens (Zwart) | 60mm |
| Leica | Leica Summarit-M 35mm f/2.4 ASPH. Lens (Zwart) | 46mm |
| Leica | Leica Summarit-M 35mm f/2.4 ASPH. Lens (Zilver) | 46mm |
| Leica | Leica Summarit-M 50mm f/2.4 Lens (Zwart) | 46mm |
| Leica | Leica Summarit-M 50mm f/2.4 Lens (Zilver) | 46mm |
| Leica | Leica Summarit-M 75mm f/2.4 Lens (Zwart) | 46mm |
| Leica | Leica Summarit-M 75mm f/2.4 Lens (Zilver) | 46mm |
| Leica | Leica Summarit-M 90mm f/2.4 Lens (Zwart) | 46mm |
| Leica | Leica Summarit-M 90mm f/2.4 Lens (Zilver) | 46mm |
| Leica | Leica Summarit-S 70mm f/2.5 ASPH Lens | 82mm |
| Leica | Leica Summarit-S 35mm f/2.5 ASPH Lens | 82mm |
| Leica | Leica Summarit-S 35mm f/2.5 ASPH CS Lens | 82mm |
| Leica | Leica Summarit-S 70mm f/2.5 ASPH CS Lens | 72mm |
| Leica | Leica Summaron-M 28mm f/5.6 Lens | 34mm |
| Leica | Leica Summicron-M 28mm f/2 ASPH. Lens | 46mm |
| Leica | Leica Summicron-M 35mm f/2 ASPH Lens (Zwart) | 39mm |
| Leica | Leica Summicron-M 35mm f/2 ASPH Lens (Zilver) | 39mm |
| Leica | Leica Summicron-M 50mm f/2 Lens | 39mm |
| Leica | Leica Summicron-S 100mm f/2 ASPH Lens | 82mm |
| Leica | Leica Summicron-T 23mm f/2 ASPH Lens | 52mm |
| Leica | Leica Summilux-M 28mm f/1.4 ASPH. Lens | 49mm |
| Leica | Leica Summilux-M 35mm f/1.4 ASPH. Lens (Zilver) | 46mm |
| Leica | Leica Summilux-M 35mm f/1.4 ASPH. Lens (Zwart) | 46mm |
| Leica | Leica Summilux-M 50mm f/1.4 ASPH. Lens (Zwart) | 46mm |
| Leica | Leica Summilux-M 50mm f/1.4 ASPH. Lens (Zilver) | 46mm |
| Leica | Leica Summilux-M 50mm f/1.4 ASPH. Lens (Black-Chrome Edition) | 43mm |
| Leica | Leica Summilux-SL 50mm f/1.4 ASPH. Lens | 82mm |
| Leica | Leica Summilux-TL 35mm f/1.4 ASPH Lens (Black Anodized) | 60mm |
| Leica | Leica Summilux-TL 35mm f/1.4 ASPH Lens (Silver Anodized) | 60mm |
| Leica | Leica Super-Elmar-M 21mm f/3.4 ASPH. Lens | 46mm |
| Leica | Leica Super-Vario-Elmar-SL 16-35mm f/3.5-4.5 ASPH. Lens | 82mm |
| Leica | Leica Super-Vario-Elmar-T 11-23mm f/3.5-4.5 ASPH Lens | 67mm |
| Leica | Leica Thambar-M 90mm f/2.2 Lens | 49mm |
| Leica | Leica Tri-Elmar-M 16-18-21mm f/4 ASPH. Lens | 67mm |
| Leica | Leica Vario-Elmarit-SL 24-90mm f/2.8-4 ASPH. Lens | 82mm |
| Leica | Leica Vario-Elmar-T 18-56mm f/3.5-5.6 ASPH Lens | 52mm |
| Olympus | Olympus M.Zuiko Digital ED 300mm f/4 IS PRO Lens | 77mm |
| Olympus | Olympus M.Zuiko Digital ED 40-150mm f/2.8 PRO Lens | 72mm |
| Olympus | Olympus M.Zuiko Digital ED 12-100mm f/4 IS PRO Lens | 72mm |
| Olympus | Olympus M.Zuiko Digital ED 12-40mm f/2.8 PRO Lens | 62mm |
| Olympus | Olympus M.Zuiko Digital ED 17mm f/1.2 PRO Lens | 62mm |
| Olympus | Olympus M.Zuiko Digital ED 25mm f/1.2 PRO Lens | 62mm |
| Olympus | Olympus M.Zuiko Digital ED 45mm f/1.2 PRO Lens | 62mm |
| Olympus | Olympus M.Zuiko Digital ED 14-150mm f/4-5.6 II Lens | 58mm |
| Olympus | Olympus M.Zuiko Digital ED 40-150mm f/4-5.6 R Lens (Zilver) | 58mm |
| Olympus | Olympus M.Zuiko Digital ED 40-150mm f/4-5.6 R Lens (Zwart) | 58mm |
| Olympus | Olympus M.Zuiko Digital ED 75-300mm f/4.8-6.7 II Lens | 58mm |
| Olympus | Olympus M.Zuiko Digital ED 75mm f/1.8 Lens (Zilver) | 58mm |
| Olympus | Olympus M.Zuiko Digital ED 75mm f/1.8 Lens (Zwart) | 58mm |
| Olympus | Olympus M.Zuiko Digital ED 9-18mm f/4-5.6 Lens | 52mm |
| Olympus | Olympus M.Zuiko Digital ED 12mm f/2 Lens (Zwart) | 46mm |
| Olympus | Olympus M.Zuiko Digital 17mm f/1.8 Lens (Zwart) | 46mm |
| Olympus | Olympus M.Zuiko Digital 25mm f/1.8 Lens (Zwart) | 46mm |
| Olympus | Olympus M.Zuiko Digital 25mm f/1.8 Lens (Zilver) | 46mm |
| Olympus | Olympus M.Zuiko Digital ED 60mm f/2.8 Macro Lens | 46mm |
| Olympus | Olympus M.Zuiko Digital ED 30mm f/3.5 Macro Lens | 46mm |
| Olympus | Olympus M.Zuiko Digital ED 14-42mm f/3.5-5.6 EZ Lens (Zilver) | 37mm |
| Olympus | Olympus M.Zuiko Digital ED 14-42mm f/3.5-5.6 EZ Lens (Zwart) | 37mm |
| Olympus | Olympus M.Zuiko Digital 14-42mm f/3.5-5.6 II R Lens (Zwart) | 37mm |
| Olympus | Olympus M.Zuiko Digital 45mm f/1.8 Lens (Zilver) | 37mm |
| Olympus | Olympus M.Zuiko Digital 45mm f/1.8 Lens (Zwart) | 37mm |
| Olympus | Olympus Zuiko Digital ED 35-100mm f/2 Lens | 77mm |
| Olympus | Olympus Zuiko Digital 11-22mm f/2.8-3.5 Lens | 72mm |
| Panasonic | Panasonic Leica DG Elmarit 200mm f/2.8 POWER O.I.S. Lens | 77mm |
| Panasonic | Panasonic Leica DG Vario-Elmar 100-400mm f/4-6.3 ASPH. POWER O.I.S. Lens | 72mm |
| Panasonic | Panasonic Leica DG Nocticron 42.5mm f/1.2 ASPH. POWER O.I.S. Lens | 67mm |
| Panasonic | Panasonic Leica DG Vario-Elmarit 50-200mm f/2.8-4 ASPH. POWER O.I.S. Lens | 67mm |
| Panasonic | Panasonic Leica DG Vario-Elmarit 8-18mm f/2.8-4 ASPH. Lens | 67mm |
| Panasonic | Panasonic Leica DG Vario-Elmarit 12-60mm f/2.8-4 ASPH. POWER O.I.S. Lens | 62mm |
| Panasonic | Panasonic Leica DG Summilux 12mm f/1.4 ASPH. Lens | 62mm |
| Panasonic | Panasonic Leica DG Summilux 15mm f/1.7 ASPH. Lens | 46mm |
| Panasonic | Panasonic Leica DG Summilux 25mm f/1.4 ASPH. Lens | 46mm |
| Panasonic | Panasonic Leica DG Macro-Elmarit 45mm f/2.8 ASPH. MEGA O.I.S. Lens | 46mm |
| Panasonic | Panasonic Lumix G Vario 100-300mm f/4-5.6 II POWER O.I.S. Lens | 67mm |
| Panasonic | Panasonic Lumix G Vario 12-60mm f/3.5-5.6 ASPH. POWER O.I.S. Lens | 58mm |
| Panasonic | Panasonic Lumix G Vario 14-140mm f/3.5-5.6 ASPH. POWER O.I.S. Lens | 58mm |
| Panasonic | Panasonic Lumix G X Vario 35-100mm f/2.8 II POWER O.I.S. Lens | 58mm |
| Panasonic | Panasonic Lumix G X Vario 12-35mm f/2.8 II ASPH. POWER O.I.S. Lens | 58mm |
| Panasonic | Panasonic Lumix G Vario 45-150mm f/4-5.6 ASPH. MEGA O.I.S. Lens | 52mm |
| Panasonic | Panasonic Lumix G Vario 45-200mm f/4-5.6 II POWER O.I.S. Lens | 52mm |
| Panasonic | Panasonic Lumix G Vario 14-45mm f/3.5-5.6 ASPH. MEGA O.I.S. Lens | 52mm |
| Panasonic | Panasonic Lumix G Vario 14-42mm f/3.5-5.6 II ASPH. MEGA O.I.S. Lens | 46mm |
| Panasonic | Panasonic Lumix G 25mm f/1.7 ASPH. Lens | 46mm |
| Panasonic | Panasonic Lumix G Macro 30mm f/2.8 ASPH. MEGA O.I.S. Lens | 46mm |
| Panasonic | Panasonic Lumix G Vario 35-100mm f/4-5.6 ASPH. MEGA O.I.S. Lens | 46mm |
| Panasonic | Panasonic Lumix G X Vario PZ 45-175mm f/4-5.6 ASPH. POWER O.I.S. Lens | 46mm |
| Panasonic | Panasonic Lumix G X Vario PZ 14-42mm f/3.5-5.6 ASPH. POWER O.I.S. Lens | 37mm |
| Panasonic | Panasonic Lumix G 42.5mm f/1.7 ASPH. POWER O.I.S. Lens | 37mm |
| Panasonic | Panasonic Lumix G Fisheye 8mm f/3.5 Lens | 22mm |
| Pentax | Pentax 35mm DA L f/2.4 AL Lens | 49mm |
| Pentax | Pentax 90mm f/2.8 D FA 645 Macro ED AW SR Lens | 67mm |
| Pentax | Pentax DA 18-55mm f/3.5-5.6 AL WR Zoom Lens | 52mm |
| Pentax | Pentax DA 40mm f/2.8 XS Lens | 27mm |
| Pentax | Pentax HD PENTAX D FA 150-450mm f/4.5-5.6 DC AW Lens | 86mm |
| Pentax | Pentax HD PENTAX-DA645 28-45mm f/4.5 ED AW SR Lens | 82mm |
| Pentax | Pentax HD PENTAX-D FA645 35mm f/3.5 AL [IF] Lens | 82mm |
| Pentax | Pentax HD Pentax-D FA 24-70mm f/2.8ED SDM WR Lens | 82mm |
| Pentax | Pentax HD PENTAX D FA* 70-200mm f/2.8 ED DC AW Lens | 77mm |
| Pentax | Pentax HD PENTAX DA 16-85mm f/3.5-5.6 ED DC WR Lens | 72mm |
| Pentax | Pentax HD FA 50mm f/1.4 SDM AW Lens | 72mm |
| Pentax | Pentax HD PENTAX-D FA 28-105mm f/3.5-5.6 ED DC WR Lens | 62mm |
| Pentax | Pentax HD PENTAX DA 18-50mm f/4.0-5.6 DC WR RE Lens | 58mm |
| Pentax | Pentax HD PENTAX-DA 55-300mm f/4.5-6.3 ED PLM WR RE Lens | 58mm |
| Pentax | Pentax HD Pentax-DA 55-300mm f/4-5.8 ED WR Lens | 58mm |
| Pentax | Pentax HD Pentax DA 20-40mm f/2.8-4 ED Limited DC WR Lens (Zwart) | 55mm |
| Pentax | Pentax HD Pentax DA 20-40mm f/2.8-4 ED Limited DC WR Lens (Zilver) | 55mm |
| Pentax | Pentax HD Pentax DA 15mm f/4 ED AL Limited Lens (Zilver) | 49mm |
| Pentax | Pentax HD Pentax DA 21mm f/3.2 AL Limited Lens (Zwart) | 49mm |
| Pentax | Pentax HD Pentax DA 21mm f/3.2 AL Limited Lens (Zilver) | 49mm |
| Pentax | Pentax HD Pentax DA 35mm f/2.8 Macro Limited Lens (Zwart) | 49mm |
| Pentax | Pentax HD Pentax DA 35mm f/2.8 Macro Limited Lens (Zilver) | 49mm |
| Pentax | Pentax HD Pentax DA 40mm f/2.8 Limited Lens (Zwart) | 49mm |
| Pentax | Pentax HD Pentax DA 40mm f/2.8 Limited Lens (Zilver) | 49mm |
| Pentax | Pentax HD Pentax DA 70mm f/2.4 Limited Lens (Zwart) | 49mm |
| Pentax | Pentax HD Pentax DA 70mm f/2.4 Limited Lens (Zilver) | 49mm |
| Pentax | Pentax Normal smc P-D FA 50mm f/2.8 Macro Autofocus Lens | 49mm |
| Pentax | Pentax Normal SMCP-FA 50mm f/1.4 Autofocus Lens | 49mm |
| Pentax | Pentax Pentax-D FA 645 55mm f/2.8 AL[IF] SDM AW Lens | 67mm |
| Pentax | Pentax smc FA 645 33-55mm f/4.5 AL Lens | 82mm |
| Pentax | Pentax smc FA 645 55-110mm f/5.6 Lens | 82mm |
| Pentax | Pentax smc FA 645 45-85mm f/4.5 Lens | 77mm |
| Pentax | Pentax smc FA 645 80-160mm f/4.5 Lens | 77mm |
| Pentax | Pentax smc DA* 16-50mm f/2.8 ED AL (IF) SDM Lens | 77mm |
| Pentax | Pentax smc FA 645 400mm f/5.6 ED IF Lens | 77mm |
| Pentax | Pentax smc FA 645 150-300mm f/5.6 ED [IF] Lens | 67mm |
| Pentax | Pentax smc FA 45mm f/2.8 Lens | 67mm |
| Pentax | Pentax smc FA 645 120mm f/4 Macro Lens | 67mm |
| Pentax | Pentax smc FA 645 150mm f/2.8 IF Lens | 67mm |
| Pentax | Pentax smc FA 645 300mm f/4 ED (IF) Lens | 67mm |
| Pentax | Pentax smc PENTAX-DA* 50-135mm f/2.8 ED (IF) SDM Lens | 67mm |
| Pentax | Pentax smc Pentax-DA 18-270mm f/3.5-6.3 ED SDM Lens | 62mm |
| Pentax | Pentax SMC DA 18-135mm F/3.5-5.6 ED AL (IF) DC WR Lens | 62mm |
| Pentax | Pentax smc FA 75mm f/2.8 Lens | 58mm |
| Pentax | Pentax smc FA 645 200mm f/4 IF Lens | 58mm |
| Pentax | Pentax smc DA 50mm f/1.8 Lens | 52mm |
| Pentax | Pentax smc PENTAX-FA 43mm f/1.9 Limited Lens (Zilver) | 49mm |
| Pentax | Pentax smc PENTAX-FA 43mm f/1.9 Limited Lens (Zwart) | 49mm |
| Pentax | Pentax smc PENTAX-FA 77mm f/1.8 Limited Lens (Zilver) | 49mm |
| Pentax | Pentax smc PENTAX-FA 77mm f/1.8 Limited Lens (Zwart) | 49mm |
| Pentax | Pentax smc Pentax-D FA 100mm f/2.8 WR Macro Lens | 49mm |
| Pentax | Pentax SMC Pentax DA 50-200mm f/4-5.6 ED WR Zoom Lens | 49mm |
| Pentax | Pentax smcP FA 31mm f/1.8 Limited Lens (Zwart) | 58mm |
| Pentax | Pentax SMCP-DA 17-70mm f/4 AL (IF) SDM Autofocus Lens for Digital SLR | 67mm |
| Pentax | Pentax SMCP-DA* 200mm f/2.8 ED (IF) SDM Autofocus Lens for Digital SLR | 77mm |
| Pentax | Pentax SMCP-DA* 300mm f/4 ED (IF) SDM Autofocus Lens for Digital SLR | 77mm |
| Pentax | Pentax Super Wide Angle SMCP-DA 14mm f/2.8 ED (IF) Autofocus Lens | 77mm |
| Pentax | Pentax Telephoto 55mm f/1.4 DA* SDM Autofocus Lens for Digital SLR | 58mm |
| Pentax | Pentax Zoom Super Wide Angle SMCP-DA 12-24mm f/4 ED AL (IF) Autofocus Lens | 77mm |
| Pentax | Pentax Zoom Telephoto 60-250mm f/4 ED DA* SDM Autofocus Lens | 67mm |
| Yongnuo | Yongnuo YN 35mm f/1.4 Lens voor Canon EF | 67mm |
| Yongnuo | Yongnuo YN 60mm f/2 MF Lens voor Canon EF | 67mm |
| Yongnuo | Yongnuo YN 35mm f/2 Lens voor Nikon F | 58mm |
| Yongnuo | Yongnuo YN 50mm f/1.4 Lens voor Canon EF | 58mm |
| Yongnuo | Yongnuo YN 50mm f/1.4N E Lens voor Nikon F | 58mm |
| Yongnuo | Yongnuo YN 50mm f/1.8 II Lens voor Canon EF (Wit) | 58mm |
| Yongnuo | Yongnuo YN 50mm f/1.8 Lens voor Nikon F | 58mm |
| Yongnuo | Yongnuo YN 50mm f/1.8 II Lens voor Canon EF (Zwart) | 58mm |
| Yongnuo | Yongnuo YN 85mm f/1.8 Lens voor Canon EF | 58mm |
| Yongnuo | Yongnuo YN 40mm f/2.8N Lens voor Nikon F | 58mm |
| Yongnuo | Yongnuo YN 100mm f/2 Lens voor Canon EF | 58mm |
| Yongnuo | Yongnuo YN 35mm f/2 Lens voor Canon EF | 52mm |
| Yongnuo | Yongnuo YN 50mm f/1.8 Lens voor Canon EF | 52mm |
| Samyang | Samyang 100mm f/2.8 ED UMC Macro Lens voor Sony E | 67mm |
| Samyang | Samyang 100mm f/2.8 ED UMC Macro Lens voor Pentax K | 67mm |
| Samyang | Samyang 100mm f/2.8 ED UMC Macro Lens voor Canon EF | 67mm |
| Samyang | Samyang 100mm f/2.8 ED UMC Macro Lens voor Nikon F | 67mm |
| Samyang | Samyang 100mm f/2.8 ED UMC Macro Lens voor Sony A | 67mm |
| Samyang | Samyang 100mm f/2.8 ED UMC Macro Lens voor Fujifilm X | 67mm |
| Samyang | Samyang 100mm f/2.8 ED UMC Macro Lens voor Samsung NX | 67mm |
| Samyang | Samyang 100mm f/2.8 ED UMC Macro Lens Voor Micro Four Thirds | 67mm |
| Samyang | Samyang 12mm f/2.0 NCS CS Lens voor Sony E-Mount (APS-C) (Black) | 67mm |
| Samyang | Samyang 12mm f/2.0 NCS CS Lens voor Fujifilm X-Mount (Black) | 67mm |
| Samyang | Samyang 12mm f/2.0 NCS CS Lens voor Fujifilm X-Mount (Silver) | 67mm |
| Samyang | Samyang 12mm f/2.0 NCS CS Lens voor Micro Four Thirds Mount (Black) | 67mm |
| Samyang | Samyang 12mm f/2.0 NCS CS Lens voor Micro Four Thirds Mount (Silver) | 67mm |
| Samyang | Samyang 12mm f/2.0 NCS CS Lens voor Sony E-Mount (APS-C) (Silver) | 67mm |
| Samyang | Samyang 135mm f/2.0 ED UMC Lens voor Sony E Mount | 77mm |
| Samyang | Samyang 135mm f/2.0 ED UMC Lens voor Fujifilm X Mount | 77mm |
| Samyang | Samyang 135mm f/2.0 ED UMC Lens voor Sony A Mount | 77mm |
| Samyang | Samyang 135mm f/2.0 ED UMC Lens voor Nikon F Mount met AE Chip | 77mm |
| Samyang | Samyang 135mm f/2.0 ED UMC Lens voor Samsung NX Mount | 77mm |
| Samyang | Samyang 135mm f/2.0 ED UMC Lens voor Pentax K Mount | 77mm |
| Samyang | Samyang 135mm f/2.0 ED UMC Lens voor Canon EF Mount | 77mm |
| Samyang | Samyang 135mm T2.2 AS UMC VDSLR II Lens voor Canon EF Mount | 77mm |
| Samyang | Samyang 135mm T2.2 AS UMC VDSLR II Lens voor Micro Four Thirds Mount | 77mm |
| Samyang | Samyang 135mm T2.2 AS UMC VDSLR II Lens voor Nikon F Mount | 77mm |
| Samyang | Samyang 135mm T2.2 AS UMC VDSLR II Lens voor Sony Alpha Mount | 77mm |
| Samyang | Samyang 135mm T2.2 AS UMC VDSLR II Lens voor Sony E-Mount | 77mm |
| Samyang | Samyang 16mm f/2.0 ED AS UMC CS Lens voor Nikon | 77mm |
| Samyang | Samyang 16mm f/2.0 ED AS UMC CS Lens voor Sony E Mount | 77mm |
| Samyang | Samyang 16mm f/2.0 ED AS UMC CS Lens voor Samsung NX Mount | 77mm |
| Samyang | Samyang 16mm f/2.0 ED AS UMC CS Lens voor Fujifilm X Mount | 77mm |
| Samyang | Samyang 16mm f/2.0 ED AS UMC CS Lens voor Canon | 77mm |
| Samyang | Samyang 16mm f/2.0 ED AS UMC CS Lens voor Canon EF-M Mount | 77mm |
| Samyang | Samyang 16mm f/2.0 ED AS UMC CS Lens voor Micro Four Thirds Mount | 77mm |
| Samyang | Samyang 16mm T2.2 Cine Lens voor Canon EF | 77mm |
| Samyang | Samyang 16mm T2.2 Cine Lens voor Micro Four Thirds | 77mm |
| Samyang | Samyang 16mm T2.2 Cine Lens voor Nikon F | 77mm |
| Samyang | Samyang 16mm T2.2 Cine Lens voor Sony A | 77mm |
| Samyang | Samyang 16mm T2.2 Cine Lens voor Sony E | 77mm |
| Samyang | Samyang 24mm f/3.5 ED AS UMC Tilt-Shift Lens voor Canon | 82mm |
| Samyang | Samyang 24mm f/3.5 ED AS UMC Tilt-Shift Lens voor Nikon | 82mm |
| Samyang | Samyang 24mm f/1.4 ED AS UMC Wide-Angle Lens voor Canon | 77mm |
| Samyang | Samyang 24mm f/1.4 ED AS UMC Wide-Angle Lens voor Nikon | 77mm |
| Samyang | Samyang 24mm f/1.4 ED AS UMC Wide-Angle Lens voor Pentax | 77mm |
| Samyang | Samyang 24mm f/1.4 ED AS UMC Wide-Angle Lens voor Olympus Four-Thirds | 77mm |
| Samyang | Samyang 24mm f/1.4 ED AS UMC Wide-Angle Lens voor Sony Alpha | 77mm |
| Samyang | Samyang 24mm T1.5 Cine Lens voor Canon EF-Mount | 77mm |
| Samyang | Samyang 24mm T1.5 Cine Lens voor Nikon F-Mount | 77mm |
| Samyang | Samyang 24mm T1.5 Cine Lens voor Sony A-Mount | 77mm |
| Samyang | Samyang 35mm f/1.4 AS UMC Lens voor Pentax K | 77mm |
| Samyang | Samyang 35mm f/1.4 AS UMC Lens voor Nikon F (AE Chip) | 77mm |
| Samyang | Samyang 35mm f/1.4 AS UMC Lens voor Canon EF (AE Chip) | 77mm |
| Samyang | Samyang 35mm f/1.4 AS UMC Lens voor Canon EF | 77mm |
| Samyang | Samyang 35mm f/1.4 AS UMC Lens voor Sony A | 77mm |
| Samyang | Samyang 35mm T1.5 Cine Lens voor Canon EF | 77mm |
| Samyang | Samyang 35mm T1.5 Cine Lens voor Nikon F | 77mm |
| Samyang | Samyang 35mm T1.5 Cine Lens voor Sony A | 77mm |
| Samyang | Samyang 50mm f/1.4 AS UMC Lens voor Pentax K | 77mm |
| Samyang | Samyang 50mm f/1.4 AS UMC Lens voor Canon EF | 77mm |
| Samyang | Samyang 50mm f/1.4 AS UMC Lens voor Nikon F | 77mm |
| Samyang | Samyang 50mm f/1.4 AS UMC Lens voor Sony E | 77mm |
| Samyang | Samyang 50mm f/1.4 AS UMC Lens voor Sony A | 77mm |
| Samyang | Samyang 50mm T1.5 VDSLR AS UMC Lens voor Canon EF Mount | 77mm |
| Samyang | Samyang 50mm T1.5 VDSLR AS UMC Lens voor Micro Four Thirds | 77mm |
| Samyang | Samyang 50mm T1.5 VDSLR AS UMC Lens voor Nikon F Mount | 77mm |
| Samyang | Samyang 50mm T1.5 VDSLR AS UMC Lens voor Sony E Mount | 77mm |
| Samyang | amyang 85mm f/1.4 Aspherical Lens voor Canon | 77mm |
| Samyang | Samyang 85mm f/1.4 Aspherical Lens voor Pentax | 77mm |
| Samyang | Samyang 85mm f/1.4 Aspherical Lens voor Nikon met Focus Confirm Chip | 77mm |
| Samyang | Samyang 85mm T1.5 Cine Lens voor Canon EF | 72mm |
| Samyang | Samyang 85mm T1.5 Cine AS IF UMC Lens voor Micro Four Thirds | 72mm |
| Samyang | Samyang 85mm T1.5 Cine Lens voor Nikon F | 72mm |
| Samyang | Samyang 85mm f/1.4 Aspherical IF Lens voor Sony E-Mount Cameras | 72mm |
| Samyang | Samyang 85mm f/1.4 Aspherical IF Lens voor Fujifilm X-Mount Cameras | 72mm |
| Samyang | Samyang 85mm f/1.4 Aspherical IF Lens voor Micro Four Thirds Mount Cameras | 72mm |
| Samyang | Samyang AF 85mm f/1.4 EF Lens voor Canon EF | 77mm |
| Samyang | Samyang AF 50mm f/1.4 FE Lens voor Sony E | 67mm |
| Samyang | Samyang AF 35mm f/1.4 FE Lens voor Sony E | 67mm |
| Samyang | Samyang AF 24mm f/2.8 FE Lens voor Sony E | 49mm |
| Samyang | Samyang AF 35mm f/2.8 FE Lens voor Sony E | 49mm |
| Samyang | Samyang Reflex 300mm f/6.3 UMC CS Lens voor Canon EF | 58mm |
| Samyang | Samyang Reflex 300mm f/6.3 UMC CS Lens voor Sony A | 58mm |
| Samyang | Samyang XP 50mm f/1.2 Lens voor Canon EF | 86mm |
| Samyang | Samyang XP 85mm f/1.2 Lens voor Canon EF | 86mm |
| Tamron | Tamron 100-400mm f/4.5-6.3 Di VC USD Lens voor Nikon F | 67mm |
| Tamron | Tamron 100-400mm f/4.5-6.3 Di VC USD Lens voor Canon EF | 67mm |
| Tamron | Tamron 10-24mm f/3.5-4.5 Di II VC HLD Lens voor Canon EF | 77mm |
| Tamron | Tamron 10-24mm f/3.5-4.5 Di II VC HLD Lens voor Nikon F | 77mm |
| Tamron | Tamron 14-150mm f/3.5-5.8 Di III Lens voor Micro Four Thirds (Zwart) | 52m |
| Tamron | Tamron 14-150mm f/3.5-5.8 Di III Lens voor Micro Four Thirds (Zilver) | 52mm |
| Tamron | Tamron 16-300mm f/3.5-6.3 Di II VC PZD MACRO Lens voor Nikon | 67mm |
| Tamron | Tamron 16-300mm f/3.5-6.3 Di II VC PZD MACRO Lens voor Canon | 67mm |
| Tamron | Tamron 16-300mm f/3.5-6.3 Di II PZD MACRO Lens voor Sony | 67mm |
| Tamron | Tamron 17-35mm f/2.8-4 DI OSD Lens voor Canon EF | 77mm |
| Tamron | Tamron 17-35mm f/2.8-4 DI OSD Lens voor Nikon F | 77mm |
| Tamron | Tamron 17-50mm f/2.8 XR Di-II LD Aspherical [IF] Autofocus Lens voor Pentax Digitale Cameras | 67mm |
| Tamron | Tamron 18-200mm f/3.5-6.3 Di III VC Lens voor Canon EF-M Mount (zwart) | 62mm |
| Tamron | Tamron 18-200mm f/3.5-6.3 Di II Lens voor Sony A | 62mm |
| Tamron | Tamron 18-200mm f/3.5-6.3 Di II VC Lens voor Canon EF | 62mm |
| Tamron | Tamron 18-200mm f/3.5-6.3 Di II VC Lens voor Nikon F | 62mm |
| Tamron | Tamron 18-200mm f/3.5-6.3 Di III VC Lens voor Canon EF-M Mount (Zilver) | 62mm |
| Tamron | Tamron 18-200mm F/3.5-6.3 Di III VC Lens voor Sony E Mount Cameras (Zilver) | 62mm |
| Tamron | Tamron 18-200mm F/3.5-6.3 Di III VC Lens voor Sony E Mount Cameras (Zwart) | 62mm |
| Tamron | Tamron 18-270mm f/3.5-6.3 Di II VC PZD Lens voor Nikon F | 62mm |
| Tamron | Tamron 18-270mm f/3.5-6.3 Di II VC PZD Lens voor Canon EF | 62mm |
| Tamron | Tamron 18-270mm F/3.5-6.3 Di II PZD Lens voor Sony | 62mm |
| Tamron | Tamron 18-400mm f/3.5-6.3 Di II VC HLD Lens voor Nikon F | 72mm |
| Tamron | Tamron 18-400mm f/3.5-6.3 Di II VC HLD Lens voor Canon EF | 72mm |
| Tamron | Tamron 28-300mm f/3.5-6.3 Di PZD Lens voor Sony | 67mm |
| Tamron | Tamron 28-300mm f/3.5-6.3 Di VC PZD Lens voor Nikon | 67mm |
| Tamron | Tamron 28-300mm f/3.5-6.3 Di VC PZD Lens voor Canon | 67mm |
| Tamron | Tamron 28-75mm f/2.8 Di III RXD Lens voor Sony E | 67mm |
| Tamron | Tamron 28-75mm f/2.8 XR Di LD Aspherical (IF) Autofocus Lens voor Nikon SLR | 67mm |
| Tamron | Tamron 70-200mm f/2.8 Di LD (IF) Macro AF Lens voor Canon EOS DSLR Cameras | 77mm |
| Tamron | Tamron 70-200mm f/2.8 Di LD (IF) Macro AF Lens voor Nikon AF | 77mm |
| Tamron | Tamron 70-200mm f/2.8 Di LD (IF) Macro AF Lens voor Pentax AF | 77mm |
| Tamron | Tamron 70-200mm f/2.8 Di LD (IF) Macro AF Lens voor Sony Alpha & Minolta SLR | 77mm |
| Tamron | Tamron 70-210mm f/4 Di VC USD Lens voor Canon EF | 67mm |
| Tamron | Tamron 70-210mm f/4 Di VC USD Lens voor Nikon F | 67mm |
| Tamron | Tamron 70-300mm f/4-5.6 Di LD Macro Lens voor Pentax AF | 62mm |
| Tamron | Tamron 70-300mm f/4-5.6 Di LD Macro Autofocus Lens voor Nikon AF | 62mm |
| Tamron | Tamron 90mm f/2.8 SP Di MACRO 1:1 USD Lens voor Sony | 58mm |
| Tamron | Tamron 90mm f/2.8 SP AF Di Macro Lens voor Nikon AF | 55mm |
| Tamron | Tamron A09 SP AF 28-75mm f/2.8 XR Di LD Aspherical (IF) Macro Zoom | 67mm |
| Tamron | Tamron SP 150-600mm f/5-6.3 Di VC USD G2 voor Canon EF | 95mm |
| Tamron | Tamron SP 150-600mm f/5-6.3 Di USD G2 voor Sony A | 95mm |
| Tamron | Tamron SP 150-600mm f/5-6.3 Di VC USD Lens voor Canon | 95mm |
| Tamron | Tamron SP 150-600mm f/5-6.3 Di USD Lens voor Sony | 95mm |
| Tamron | Tamron SP 150-600mm f/5-6.3 Di VC USD Lens voor Nikon | 95mm |
| Tamron | Tamron SP 24-70mm f/2.8 Di VC USD G2 Lens voor Canon EF | 82mm |
| Tamron | Tamron SP 24-70mm f/2.8 Di USD Lens voor Sony Cameras | 82mm |
| Tamron | Tamron SP 24-70mm f/2.8 Di VC USD G2 Lens voor Nikon F | 82mm |
| Tamron | Tamron SP 24-70mm f/2.8 DI VC USD Lens voor Canon Cameras | 82mm |
| Tamron | Tamron SP 85mm f/1.8 Di VC USD Lens voor Nikon F | 67mm |
| Tamron | Tamron SP 85mm f/1.8 Di USD Lens voor Sony A | 67mm |
| Tamron | Tamron SP 35mm f/1.8 Di VC USD Lens voor Canon EF | 67mm |
| Tamron | Tamron SP 35mm f/1.8 Di VC USD Lens voor Nikon F | 67mm |
| Tamron | Tamron SP 90mm f/2.8 Di Macro 1:1 VC USD Lens voor Nikon F | 62mm |
| Tamron | Tamron SP 90mm f/2.8 Di Macro 1:1 USD Lens voor Sony A | 62mm |
| Tamron | Tamron SP 90mm f/2.8 Di Macro 1:1 VC USD Lens voor Canon EF | 62mm |
| Tamron | Tamron SP 70-300mm f/4-5.6 Di VC USD Telephoto Zoom Lens voor Canon Digitale SLRs & 35mm Film Cameras | 62mm |
| Tamron | Tamron SP 70-300mm f/4-5.6 Di USD Telephoto Zoom Lens voor Sony Digitale SLR Cameras | 62mm |
| Tamron | Tamron SP 60mm f/2 Di II 1:1 Macro Lens voor Nikon F | 55mm |
| Tamron | Tamron SP 60mm f/2 Di II 1:1 Macro Lens voor Canon EF | 55mm |
| Tamron | Tamron SP 90mm f/2.8 Di Macro Autofocus Lens voor Canon EOS | 55mm |
| Tamron | Tamron SP 90mm f/2.8 Di Macro Autofocus Lens voor Sony Alpha & Minolta Maxxum SLR | 55mm |
| Tamron | Tamron Telephoto SP AF 180mm f/3.5 Di LD IF Macro Autofocus Lens voor Sony Alpha & Minolta Maxxum Series | 72mm |
| Tamron | Tamron Telephoto SP AF 90mm f/2.8 Di Macro Autofocus Lens voor Pentax AF | 55mm |
| Tamron | Tamron Zoom Wide Angle-Telephoto 28-200mm f/3.8-5.6 LD Aspherical IF Super Manual Focus Adaptall Lens (Mount verplicht nodig) | 72mm |
| Tamron | Tamron Zoom Wide Angle-Telephoto AF 28-75mm f/2.8 XR Di LD Aspherical (IF) Autofocus Lens voor Canon EOS | 67mm |
| Tamron | Tamron Zoom Wide Angle-Telephoto AF 28-75mm f/2.8 XR Di LD Aspherical (IF) Autofocus Lens voor Pentax AF | 67mm |
| Tamron | Tamron Zoom Super Wide Angle SP AF 17-50mm f/2.8 XR Di II LD Aspherical [IF] Autofocus Lens voor Canon EOS Digitale Cameras | 67mm |
| Tamron | Tamron Zoom Wide Angle-Telephoto 28-70mm f/3.5-4.5 Manual Focus Adaptall Lens (Nodig: Adaptall Mount) | 62mm |
| Tamron | Tamron Zoom Telephoto AF 70-300mm f/4-5.6 Di LD Macro Autofocus Lens voor Canon EO | 62mm |
| Tamron | Tamron Zoom Telephoto AF 70-300mm f/4-5.6 Di LD Macro Autofocus Lens voor Sony Alpha & Minolta Digital SLR Maxxum | 62mm |
| Pentax | Pentax 35mm DA L f/2.4 AL Lens | 49mm |
| Pentax | Pentax 90mm f/2.8 D FA 645 Macro ED AW SR Lens | 67mm |
| Pentax | Pentax DA 18-55mm f/3.5-5.6 AL WR Zoom Lens | 52mm |
| Pentax | Pentax DA 40mm f/2.8 XS Lens | 27mm |
| Pentax | Pentax HD PENTAX D FA 150-450mm f/4.5-5.6 DC AW Lens | 86mm |
| Pentax | Pentax HD PENTAX-DA645 28-45mm f/4.5 ED AW SR Lens | 82mm |
| Pentax | Pentax HD PENTAX-D FA645 35mm f/3.5 AL [IF] Lens | 82mm |
| Pentax | Pentax HD Pentax-D FA 24-70mm f/2.8ED SDM WR Lens | 82mm |
| Pentax | Pentax HD PENTAX D FA* 70-200mm f/2.8 ED DC AW Lens | 77mm |
| Pentax | Pentax HD PENTAX DA 16-85mm f/3.5-5.6 ED DC WR Lens | 72mm |
| Pentax | Pentax HD FA 50mm f/1.4 SDM AW Lens | 72mm |
| Pentax | Pentax HD PENTAX-D FA 28-105mm f/3.5-5.6 ED DC WR Lens | 62mm |
| Pentax | Pentax HD PENTAX DA 18-50mm f/4.0-5.6 DC WR RE Lens | 58mm |
| Pentax | Pentax HD PENTAX-DA 55-300mm f/4.5-6.3 ED PLM WR RE Lens | 58mm |
| Pentax | Pentax HD Pentax-DA 55-300mm f/4-5.8 ED WR Lens | 58mm |
| Pentax | Pentax HD Pentax DA 20-40mm f/2.8-4 ED Limited DC WR Lens (Zwart) | 55mm |
| Pentax | Pentax HD Pentax DA 20-40mm f/2.8-4 ED Limited DC WR Lens (Zilver) | 55mm |
| Pentax | Pentax HD Pentax DA 15mm f/4 ED AL Limited Lens (Zilver) | 49mm |
| Pentax | Pentax HD Pentax DA 21mm f/3.2 AL Limited Lens (Zilver) | 49mm |
| Pentax | Pentax HD Pentax DA 21mm f/3.2 AL Limited Lens (Zilver) | 49mm |
| Pentax | Pentax HD Pentax DA 35mm f/2.8 Macro Limited Lens (Zwart) | 49mm |
| Pentax | Pentax HD Pentax DA 35mm f/2.8 Macro Limited Lens (Zilver) | 49mm |
| Pentax | Pentax HD Pentax DA 40mm f/2.8 Limited Lens (Zwart) | 49mm |
| Pentax | Pentax HD Pentax DA 40mm f/2.8 Limited Lens (Zilver) | 49mm |
| Pentax | Pentax HD Pentax DA 70mm f/2.4 Limited Lens (Zwart) | 49mm |
| Pentax | Pentax HD Pentax DA 70mm f/2.4 Limited Lens (Zilver) | 49mm |
| Pentax | Pentax Normal smc P-D FA 50mm f/2.8 Macro Autofocus Lens | 49mm |
| Pentax | Pentax Normal SMCP-FA 50mm f/1.4 Autofocus Lens | 49mm |
| Pentax | Pentax Pentax-D FA 645 55mm f/2.8 AL[IF] SDM AW Lens | 67mm |
| Pentax | Pentax smc FA 645 33-55mm f/4.5 AL Lens | 82mm |
| Pentax | Pentax smc FA 645 55-110mm f/5.6 Lens | 82mm |
| Pentax | Pentax smc FA 645 45-85mm f/4.5 Lens | 77mm |
| Pentax | Pentax smc FA 645 80-160mm f/4.5 Lens | 77mm |
| Pentax | Pentax smc DA* 16-50mm f/2.8 ED AL (IF) SDM Lens | 77mm |
| Pentax | Pentax smc FA 645 400mm f/5.6 ED IF Lens | 77mm |
| Pentax | Pentax smc FA 645 150-300mm f/5.6 ED [IF] Lens | 67mm |
| Pentax | Pentax smc FA 45mm f/2.8 Lens | 67mm |
| Pentax | Pentax smc FA 645 120mm f/4 Macro Lens | 67mm |
| Pentax | Pentax smc FA 645 150mm f/2.8 IF Lens | 67mm |
| Pentax | Pentax smc FA 645 300mm f/4 ED (IF) Lens | 67mm |
| Pentax | Pentax smc PENTAX-DA* 50-135mm f/2.8 ED (IF) SDM Lens | 67mm |
| Pentax | Pentax smc Pentax-DA 18-270mm f/3.5-6.3 ED SDM Lens | 62mm |
| Pentax | Pentax SMC DA 18-135mm F/3.5-5.6 ED AL (IF) DC WR Lens | 62mm |
| Pentax | Pentax smc FA 75mm f/2.8 Lens | 58mm |
| Pentax | Pentax smc FA 645 200mm f/4 IF Lens | 58mm |
| Pentax | Pentax smc DA 50mm f/1.8 Lens | 52mm |
| Pentax | Pentax smc PENTAX-FA 43mm f/1.9 Limited Lens (Zilver) | 49mm |
| Pentax | Pentax smc PENTAX-FA 43mm f/1.9 Limited Lens (Zwart) | 49mm |
| Pentax | Pentax smc PENTAX-FA 77mm f/1.8 Limited Lens (Zilver) | 49mm |
| Pentax | Pentax smc PENTAX-FA 77mm f/1.8 Limited Lens (Zwart) | 49mm |
| Pentax | Pentax smc Pentax-D FA 100mm f/2.8 WR Macro Lens | 49mm |
| Pentax | Pentax SMC Pentax DA 50-200mm f/4-5.6 ED WR Zoom Lens | 49mm |
| Pentax | Pentax smcP FA 31mm f/1.8 Limited Lens (Zwart) | 58mm |
| Pentax | Pentax SMCP-DA 17-70mm f/4 AL (IF) SDM Autofocus Lens voor Digital SLR | 67mm |
| Pentax | Pentax SMCP-DA* 200mm f/2.8 ED (IF) SDM Autofocus Lens voor Digital SLR | 77mm |
| Pentax | Pentax Super Wide Angle SMCP-DA 14mm f/2.8 ED (IF) Autofocus Lens | 77mm |
| Pentax | Pentax Super Wide Angle SMCP-DA 14mm f/2.8 ED (IF) Autofocus Lens | 77mm |
| Pentax | Pentax Telephoto 55mm f/1.4 DA* SDM Autofocus Lens voor Digital SLR | 58mm |
| Pentax | Pentax Zoom Super Wide Angle SMCP-DA 12-24mm f/4 ED AL (IF) Autofocus Lens | 77mm |
| Pentax | Pentax Zoom Telephoto 60-250mm f/4 ED DA* SDM Autofocus Lens | 67mm |
| Tokina | Tokina 100mm f/2.8 AT-X M100 AF Pro D Macro Autofocus Lens voor Canon EOS | 55mm |
| Tokina | Tokina 100mm f/2.8 AT-X M100 AF Pro D Macro Autofocus Lens voor Nikon AF-D | 55mm |
| Tokina | Tokina 12-28mm f/4.0 AT-X Pro DX Lens voor Nikon | 77mm |
| Tokina | Tokina 12-28mm f/4.0 AT-X Pro APS-C Lens voor Canon | 77mm |
| Tokina | Tokina 17-35mm f/4 Pro FX Lens voor Nikon Cameras | 82mm |
| Tokina | Tokina 17-35mm f/4 Pro FX Lens voor Canon Cameras | 82mm |
| Tokina | Tokina 25mm T1.5 Cinema Vista Prime Lens (PL Mount, Focus Scale in Feet) | 112mm |
| Tokina | Tokina 25mm T1.5 Cinema Vista Prime Lens (EF Mount, Focus Scale in Feet) | 112mm |
| Tokina | Tokina 25mm T1.5 Cinema Vista Prime Lens (MFT Mount, Focus Scale in Feet) | 112mm |
| Tokina | Tokina 25mm T1.5 Cinema Vista Prime Lens (Sony E-Mount, Focus Scale in Feet) | 112mm |
| Tokina | Tokina 35mm T1.5 Cinema Vista Prime Lens (PL Mount, Focus Scale in Feet | 112mm |
| Tokina | Tokina 35mm T1.5 Cinema Vista Prime Lens (EF Mount, Focus Scale in Feet) | 112mm |
| Tokina | Tokina 35mm T1.5 Cinema Vista Prime Lens (EF Mount, Focus Scale in Feet) | 112mm |
| Tokina | Tokina 35mm T1.5 Cinema Vista Prime Lens (MFT Mount, Focus Scale in Feet) | 112mm |
| Tokina | Tokina 50mm T1.5 Cinema Vista Prime Lens (PL Mount, Focus Scale in Feet) | 112mm |
| Tokina | Tokina 50mm T1.5 Cinema Vista Prime Lens (EF Mount, Focus Scale in Feet) | 112mm |
| Tokina | Tokina 50mm T1.5 Cinema Vista Prime Lens (E Mount, Focus Scale in Feet) | 112mm |
| Tokina | Tokina 50mm T1.5 Cinema Vista Prime Lens (MFT Mount, Focus Scale in Feet) | 112mm |
| Tokina | Tokina 85mm T1.5 Cinema Vista Prime Lens (PL Mount, Focus Scale in Feet) | 112mm |
| Tokina | Tokina 85mm T1.5 Cinema Vista Prime Lens (EF Mount, Focus Scale in Feet) | 112mm |
| Tokina | Tokina 85mm T1.5 Cinema Vista Prime Lens (E Mount, Focus Scale in Feet) | 112mm |
| Tokina | Tokina 85mm T1.5 Cinema Vista Prime Lens (MFT Mount, Focus Scale in Feet) | 112mm |
| Tokina | Tokina AT-X 11-20mm f/2.8 PRO DX Lens voor Nikon F | 82mm |
| Tokina | Tokina AT-X 11-20mm f/2.8 PRO DX Lens voor Canon EF | 82mm |
| Tokina | Tokina AT-X 14-20mm f/2 PRO DX Lens voor Nikon F | 82mm |
| Tokina | Tokina AT-X 14-20mm f/2 PRO DX Lens voor Canon EF | 82mm |
| Tokina | Tokina AT-X 24-70mm f/2.8 PRO FX Lens voor Canon EF | 82mm |
| Tokina | Tokina AT-X 24-70mm f/2.8 PRO FX Lens voor Nikon F | 82mm |
| Tokina | Tokina AT-X 116 PRO DX-II 11-16mm f/2.8 Lens voor Canon EF | 77mm |
| Tokina | Tokina AT-X 116 PRO DX-II 11-16mm f/2.8 Lens voor Sony A | 77mm |
| Tokina | Tokina AT-X 116 PRO DX-II 11-16mm f/2.8 Lens voor Nikon F | 77mm |
| Tokina | Tokina AT-X 70-200mm f/4 PRO FX VCM-S Lens voor Nikon | 67mm |
| Tokina | Tokina Cinema ATX 11-20mm T2.9 Wide-Angle Zoom Lens (PL Mount) | 86mm |
| Tokina | Tokina Cinema ATX 11-20mm T2.9 Wide-Angle Zoom Lens (Sony E Mount) | 86mm |
| Tokina | Tokina Cinema AT-X 100mm T2.9 Macro Lens (PL Mount) | 82mm |
| Tokina | Tokina Cinema AT-X 100mm T2.9 Macro Lens (Canon EF Mount) | 82mm |
| Tokina | Tokina Cinema AT-X 100mm T2.9 Macro Lens (Sony E Mount) | 82mm |
| Tokina | Tokina Cinema 11-16mm T3.0 met PL Mount | 82mm |
| Tokina | Tokina Cinema ATX 16-28mm T3 Wide-Angle Zoom Lens voor PL | 112mm |
| Tokina | Tokina Cinema ATX 16-28mm T3 Wide-Angle Zoom Lens voor Canon EF | 112mm |
| Tokina | Tokina Cinema 50-135mm T3.0 with PL Mount | 112mm |
| Tokina | Tokina Cinema 50-135mm T3.0 met Canon EF Mount | 112mm |
| TokinaTokina | Tokina Cinema Vista 16-28mm II T3 Wide-Angle Zoom Lens (EF Mount, Focus Scale in Feet) | 112mm |
| Tokina | Tokina Cinema Vista 16-28mm II T3 Wide-Angle Zoom Lens (E-Mount, Focus Scale in Feet) | 112mm |
| Tokina | Tokina Cinema Vista 16-28mm II T3 Wide-Angle Zoom Lens (F Mount, Focus Scale in Feet) | 112mm |
| Tokina | Tokina Cinema Vista 16-28mm II T3 Wide-Angle Zoom Lens (MFT Mount, Focus Scale in Feet) | 112mm |
| Tokina | Tokina Cinema Vista 16-28mm II T3 Wide-Angle Zoom Lens (PL Mount, Focus Scale in Feet) | 112mm |
| Tokina | Tokina FiRIN 20mm f/2 FE AF Lens voor Sony E | 62mm |
| Tokina | Tokina FiRIN 20mm f/2 FE MF Lens voor Sony E | 62mm |
| Tokina | Tokina opera 50mm f/1.4 FF Lens voor Canon EF | 72mm |
| Tokina | Tokina opera 50mm f/1.4 FF Lens voor Nikon F | 72mm |
| Sigma | Sigma 100-400mm f/5-6.3 DG OS HSM Contemporary Lens voor Nikon F | 67mm |
| Sigma | Sigma 100-400mm f/5-6.3 DG OS HSM Contemporary Lens voor Sigma SA | 67mm |
| Sigma | Sigma 100-400mm f/5-6.3 DG OS HSM Contemporary Lens voor Canon EF | 67mm |
| Sigma | Sigma 10-20mm f/3.5 EX DC HSM Lens voor Sony A | 82mm |
| Sigma | Sigma 10-20mm f/3.5 EX DC HSM Lens voor Sigma SA | 82mm |
| Sigma | Sigma 10-20mm f/3.5 EX DC HSM Lens voor Nikon F | 82mm |
| Sigma | Sigma 10-20mm f/3.5 EX DC HSM Lens voor Canon EF | 82mm |
| Sigma | Sigma 10-20mm f/3.5 EX DC HSM Lens voor Pentax K | 82mm |
| Sigma | Sigma 105mm f/2.8 EX DG OS Macro Lens voor Sigma Cameras | 62mm |
| Sigma | Sigma 105mm f/2.8 EX DG OS HSM Macro Lens voor Nikon AF Cameras | 62mm |
| Sigma | Sigma 105mm f/2.8 EX DG OS HSM Macro Lens voor Canon EOS Cameras | 62mm |
| Sigma | Sigma 105mm f/1.4 DG HSM Art Lens voor Sigma SA | 105mm |
| Sigma | Sigma 105mm f/1.4 DG HSM Art Lens voor Sony E | 105mm |
| Sigma | Sigma 105mm f/1.4 DG HSM Art Lens voor Canon EF | 105mm |
| Sigma | Sigma 105mm f/1.4 DG HSM Art Lens voor Nikon F | 105mm |
| Sigma | Sigma 120-300mm f/2.8 DG OS HSM Lens voor Sigma | 105mm |
| Sigma | Sigma 120-300mm f/2.8 DG OS HSM Lens voor Nikon | 105mm |
| Sigma | Sigma 120-300mm f/2.8 DG OS HSM Lens voor Canon | 105mm |
| Sigma | Sigma 135mm T2 FF High-Speed Prime (EF Mount) | 82mm |
| Sigma | Sigma 135mm f/1.8 DG HSM Art Lens voor Canon EF | 82mm |
| Sigma | Sigma 135mm f/1.8 DG HSM Art Lens voor Nikon F | 82mm |
| Sigma | Sigma 135mm f/1.8 DG HSM Art Lens voor Sony E | 82mm |
| Sigma | Sigma 135mm f/1.8 DG HSM Art Lens voor Sigma SA | 82mm |
| Sigma | Sigma 135mm T2.0 FF High-Speed Prime (PL Mount) | 82mm |
| Sigma | Sigma 135mm T2 Fully Luminous FF High Speed Prime Lens (ARRI PL Mount) | 82mm |
| Sigma | Sigma 135mm T2 Fully Luminous FF High Speed Prime Lens (Canon EF Mount) | 82mm |
| Sigma | Sigma 135mm T2.0 FF High-Speed Prime (Sony E Mount) | 82mm |
| Sigma | Sigma 135mm T2 Fully Luminous FF High Speed Prime Lens (Sony E Mount) | 82mm |
| Sigma | Sigma 150-600mm f/5-6.3 DG OS HSM Contemporary Lens voor Sigma SA | 95mm |
| Sigma | Sigma 150-600mm f/5-6.3 DG OS HSM Contemporary Lens voor Nikon F | 95mm |
| Sigma | Sigma 150-600mm f/5-6.3 DG OS HSM Contemporary Lens voor Canon EF | 95mm |
| Sigma | Sigma 150-600mm f/5-6.3 DG OS HSM Sports Lens voor Canon EF | 105mm |
| Sigma | Sigma 150-600mm f/5-6.3 DG OS HSM Sports Lens voor Sigma SA | 105mm |
| Sigma | Sigma 150-600mm f/5-6.3 DG OS HSM Sports Lens voor Nikon F | 105mm |
| Sigma | Sigma 16mm f/1.4 DC DN Contemporary Lens voor Sony E | 67mm |
| Sigma | Sigma 16mm f/1.4 DC DN Contemporary Lens voor Micro Four Thirds | 67mm |
| Sigma | Sigma 17-50mm f/2.8 EX DC OS HSM Lens voor Nikon F | 77mm |
| Sigma | Sigma 17-50mm f/2.8 EX DC OS HSM Lens voor Canon EF | 77mm |
| Sigma | Sigma 17-50mm f/2.8 EX DC HSM Lens voor Pentax K | 77mm |
| Sigma | Sigma 17-50mm f/2.8 EX DC OS HSM Lens voor Sigma SA | 77mm |
| Sigma | Sigma 17-50mm f/2.8 EX DC HSM Lens voor Sony A | 77mm |
| Sigma | Sigma 17-70mm f/2.8-4 DC Macro OS HSM Lens voor Canon | 72mm |
| Sigma | Sigma 17-70mm f/2.8-4 DC Macro HSM Lens voor Sony | 72mm |
| Sigma | Sigma 17-70mm f/2.8-4 DC Macro OS HSM Lens voor Nikon | 72mm |
| Sigma | Sigma 17-70mm f/2.8-4 DC Macro OS HSM Lens voor Sigma | 72mm |
| Sigma | Sigma 17-70mm f/2.8-4 DC Macro HSM Lens voor Pentax | 72mm |
| Sigma | Sigma 180mm f/2.8 APO Macro EX DG OS HSM Lens (voor Canon) | 86mm |
| Sigma | Sigma 180mm f/2.8 APO Macro EX DG OS HSM Lens (voor Sony) | 86mm |
| Sigma | Sigma 180mm f/2.8 APO Macro EX DG OS HSM Lens (voor Nikon) | 86mm |
| Sigma | Sigma 180mm f/2.8 APO Macro EX DG OS HSM Lens (voor Sigma) | 86mm |
| Sigma | Sigma 18-200mm f/3.5-6.3 DC Macro OS HSM Lens voor Sigma Digitale Cameras | 62mm |
| Sigma | Sigma 18-200mm f/3.5-6.3 DC Macro HSM Lens voor Sony Digitale Cameras | 62mm |
| Sigma | Sigma 18-200mm f/3.5-6.3 DC Macro OS HSM Lens voor Nikon Digitale Cameras | 62mm |
| Sigma | Sigma 18-200mm f/3.5-6.3 DC Macro HSM Lens voor Pentax Digitale Cameras | 62mm |
| Sigma | Sigma 18-200mm f/3.5-6.3 DC Macro OS HSM Lens voor Canon Digital Cameras | 62mm |
| Sigma | Sigma 18-250mm F3.5-6.3 DC Macro HSM voor Sony Alpha Cameras | 62mm |
| Sigma | Sigma 18-250mm F3.5-6.3 DC Macro HSM voor Pentax K Cameras | 62mm |
| Sigma | Sigma 18-250mm F3.5-6.3 DC Macro OS HSM voor Canon EF Mount | 62mm |
| Sigma | Sigma 18-300mm f/3.5-6.3 DC MACRO OS HSM Contemporary Lens voor Sigma SA | 72mm |
| Sigma | Sigma 18-300mm f/3.5-6.3 DC MACRO OS HSM Contemporary Lens voor Nikon F | 72mm |
| Sigma | Sigma 18-300mm f/3.5-6.3 DC MACRO HSM Contemporary Lens voor Pentax K | 72mm |
| Sigma | Sigma 18-300mm f/3.5-6.3 DC MACRO HSM Contemporary Lens voor Sony A | 72mm |
| Sigma | Sigma 18-300mm f/3.5-6.3 DC MACRO OS HSM Contemporary Lens voor Canon EF | 72mm |
| Sigma | Sigma 18-35mm T2 High-Speed Zoom Lens (PL) | 82mm |
| Sigma | Sigma 18-35mm T2 Fully Luminous High-Speed Zoom Lens (PL) | 82mm |
| Sigma | Sigma 18-35mm T2 High-Speed Zoom Lens (Canon EF) | 82mm |
| Sigma | Sigma 18-35mm T2 Fully Luminous High-Speed Zoom Lens (Canon EF) | 82mm |
| Sigma | Sigma 18-35mm T2 High-Speed Zoom Lens (Sony E) | 82mm |
| Sigma | Sigma 18-35mm T2 Fully Luminous High-Speed Zoom Lens (Sony E) | 82mm |
| Sigma | Sigma 18-35mm f/1.8 DC HSM Art Lens voor Nikon F | 72mm |
| Sigma | Sigma 18-35mm f/1.8 DC HSM Art Lens voor Pentax K | 72mm |
| Sigma | Sigma 18-35mm f/1.8 DC HSM Art Lens voor Sony A | 72mm |
| Sigma | Sigma 18-35mm f/1.8 DC HSM Art Lens voor Canon EF | 72mm |
| Sigma | Sigma 19mm f/2.8 DN Lens voor Sony E-mount Cameras (Black) | 46mm |
| Sigma | Sigma 19mm f/2.8 DN Lens voor Micro Four Thirds Cameras (Black) | 46mm |
| Sigma | Sigma 19mm f/2.8 DN Lens voor Micro Four Thirds Cameras (Silver) | 46mm |
| Sigma | Sigma 19mm f/2.8 DN Lens voor Sony E-mount Cameras (Silver) | 46mm |
| Sigma | Sigma 24-105mm f/4 DG OS HSM Art Lens voor Canon EF | 82mm |
| Sigma | Sigma 24-105mm f/4 DG OS HSM Art Lens voor Nikon F | 82mm |
| Sigma | Sigma 24-105mm f/4 DG OS HSM Art Lens voor Sigma SA | 72mm |
| Sigma | Sigma 24-105mm f/4 DG HSM Art Lens voor Sony A | 82mm |
| Sigma | Sigma 24-35mm f/2 DG HSM Art Lens voor Sigma SA | 82mm |
| Sigma | Sigma 24-35mm f/2 DG HSM Art Lens voor Canon EF | 82mm |
| Sigma | Sigma 24-35mm f/2 DG HSM Art Lens voor Nikon F | 82mm |
| Sigma | Sigma 24-35mm T2.2 FF Zoom Lens (Canon EF, Feet) | 82mm |
| Sigma | Sigma 24-35mm T2.2 FF Zoom Lens (Canon EF, Meters) | 82mm |
| Sigma | Sigma 24-35mm T2.2 Fully Luminous FF Zoom Lens (Canon EF, Feet) | 82mm |
| Sigma | Sigma 24-35mm T2.2 FF Zoom Lens (Sony E, Feet) | 82mm |
| Sigma | Sigma 24-35mm T2.2 FF Zoom Lens (Sony E, Meters) | 82mm |
| Sigma | Sigma 24-35mm T2.2 Fully Luminous FF Zoom Lens (Sony E, Feet) | 82mm |
| Sigma | Sigma 24-70mm f/2.8 DG OS HSM Art Lens voor Canon EF | 82mm |
| Sigma | Sigma 24-70mm f/2.8 DG OS HSM Art Lens voor Nikon F | 82mm |
| Sigma | Sigma 24-70mm f/2.8 DG OS HSM Art Lens voor Sigma SA | 82mm |
| Sigma | Sigma 24mm T1.5 FF High-Speed Prime (EF Mount) | 82mm |
| Sigma | Sigma 24mm T1.5 FF High-Speed Prime (PL Mount) | 82mm |
| Sigma | Sigma 24mm T1.5 FF High Speed Prime Lens (ARRI PL Mount, Meters) | 82mm |
| Sigma | Sigma 24mm T1.5 Fully Luminous FF High Speed Prime Lens (ARRI PL Mount) | 82mm |
| Sigma | Sigma 24mm T1.5 FF High Speed Prime Lens (Canon EF Mount, Meters) | 82mm |
| Sigma | Sigma 24mm T1.5 Fully Luminous FF High Speed Prime Lens (Canon EF Mount) | 82mm |
| Sigma | Sigma 24mm T1.5 FF High-Speed Prime (Sony E Mount) | 82mm |
| Sigma | Sigma 24mm T1.5 FF High Speed Prime Lens (Sony E Mount, Meters) | 82mm |
| Sigma | Sigma 24mm T1.5 Fully Luminous FF High Speed Prime Lens (Sony E Mount) | 82mm |
| Sigma | Sigma 24mm f/1.4 DG HSM Art Lens voor Sony E | 77mm |
| Sigma | Sigma 24mm f/1.4 DG HSM Art Lens voor Sigma SA | 77mm |
| Sigma | Sigma 24mm f/1.4 DG HSM Art Lens voor Canon EF | 77mm |
| Sigma | Sigma 24mm f/1.4 DG HSM Art Lens voor Nikon F | 77mm |
| Sigma | Sigma 28mm f/1.4 DG HSM Art Lens voor Sigma SA | 77mm |
| Sigma | Sigma 28mm f/1.4 DG HSM Art Lens voor Nikon F | 77mm |
| Sigma | Sigma 28mm f/1.4 DG HSM Art Lens voor Canon EF | 77mm |
| Sigma | Sigma 28mm f/1.4 DG HSM Art Lens voor Sony E | 77mm |
| Sigma | Sigma 30mm f/1.4 DC HSM Art Lens voor Sigma | 62mm |
| Sigma | Sigma 30mm f/1.4 DC HSM Art Lens voor Pentax | 62mm |
| Sigma | Sigma 30mm f/1.4 DC HSM Art Lens voor Sony | 62mm |
| Sigma | Sigma 30mm f/1.4 DC HSM Art Lens voor Nikon | 62mm |
| Sigma | Sigma 30mm f/1.4 DC HSM Art Lens voor Canon | 62mm |
| Sigma | Sigma 30mm f/1.4 DC DN Contemporary Lens voor Sony E | 52mm |
| Sigma | Sigma 30mm f/1.4 DC DN Contemporary Lens voor Micro Four Thirds | 52mm |
| Sigma | Sigma 30mm f/2.8 DN Lens voor Sony E-mount Cameras (Black) | 62mm |
| Sigma | Sigma 30mm f/2.8 DN Lens voor Sony E-mount Cameras (Silver) | 62mm |
| Sigma | Sigma 30mm f/2.8 DN Lens voor Micro Four Thirds Cameras (Silver) | 62mm |
| Sigma | Sigma 35mm T1.5 FF High-Speed Prime (EF Mount) | 82mm |
| Sigma | Sigma 35mm T1.5 FF High-Speed Prime (PL Mount) | 82mm |
| Sigma | Sigma 35mm T1.5 FF High Speed Prime Lens (ARRI PL Mount, Meters) | 82mm |
| Sigma | Sigma 35mm T1.5 Fully Luminous FF High Speed Prime Lens (ARRI PL Mount) | 82mm |
| Sigma | Sigma 35mm T1.5 FF High Speed Prime Lens (Canon EF Mount, Meters) | 82mm |
| Sigma | Sigma 35mm T1.5 Fully Luminous FF High Speed Prime Lens (Canon EF Mount) | 82mm |
| Sigma | Sigma 35mm T1.5 FF High-Speed Prime (Sony E Mount) | 82mm |
| Sigma | Sigma 35mm T1.5 FF High Speed Prime Lens (Sony E Mount, Meters) | 82mm |
| Sigma | Sigma 35mm T1.5 Fully Luminous FF High Speed Prime Lens (Sony E Mount) | 82mm |
| Sigma | Sigma 35mm f/1.4 DG HSM Art Lens voor Sony E | 67mm |
| Sigma | Sigma 35mm f/1.4 DG HSM Art Lens voor Nikon F | 67mm |
| Sigma | Sigma 35mm f/1.4 DG HSM Art Lens voor Sigma SA | 67mm |
| Sigma | Sigma 35mm f/1.4 DG HSM Art Lens voor Pentax K | 67mm |
| Sigma | Sigma 35mm f/1.4 DG HSM Art Lens voor Canon EF | 67mm |
| Sigma | Sigma 35mm f/1.4 DG HSM Art Lens voor Sony A | 67mm |
| Sigma | Sigma 40mm f/1.4 DG HSM Art Lens voor Sigma SA | 82mm |
| Sigma | Sigma 40mm f/1.4 DG HSM Art Lens voor Canon EF | 82mm |
| Sigma | Sigma 40mm f/1.4 DG HSM Art Lens voor Nikon F | 82mm |
| Sigma | Sigma 40mm f/1.4 DG HSM Art Lens voor Sony E | 82mm |
| Sigma | Sigma 40mm T1.5 FF Canon EF Mount High-Speed Prime Lens (Feet) | 82mm |
| Sigma | Sigma 40mm T1.5 FF Canon EF Mount Fully Luminous High-Speed Prime Lens (Meters) | 82mm |
| Sigma | Sigma 40mm T1.5 FF Canon EF Mount Fully Luminous High-Speed Prime Lens (Feet) | 82mm |
| Sigma | Sigma 40mm T1.5 FF Canon EF Mount High-Speed Prime Lens (Meters) | 82mm |
| Sigma | Sigma 500mm f/4 DG OS HSM Sports Lens voor Canon EF | 46mm |
| Sigma | Sigma 500mm f/4 DG OS HSM Sports Lens voor Nikon F | 46mm |
| Sigma | Sigma 500mm f/4 DG OS HSM Sports Lens voor Sigma SA | 46mm |
| Sigma | Sigma 50-100mm f/1.8 DC HSM Art Lens voor Sigma SA | 82mm |
| Sigma | Sigma 50-100mm f/1.8 DC HSM Art Lens voor Canon EF | 82mm |
| Sigma | Sigma 50-100mm T2 High-Speed Zoom Lens (PL, Feet) | 82mm |
| Sigma | Sigma 50-100mm T2 High-Speed Zoom Lens (PL, Meters) | 82mm |
| Sigma | Sigma 50-100mm T2 Fully Luminous High-Speed Zoom Lens (PL, Feet) | 82mm |
| Sigma | Sigma 50-100mm T2 High-Speed Zoom Lens (Canon EF, Feet) | 82mm |
| Sigma | Sigma 50-100mm T2 High-Speed Zoom Lens (Canon EF, Meters) | 82mm |
| Sigma | Sigma 50-100mm T2 Fully Luminous High-Speed Zoom Lens (Canon EF, Feet) | 82mm |
| Sigma | Sigma 50-100mm T2 High-Speed Zoom Lens (Sony E, Feet) | 82mm |
| Sigma | Sigma 50-100mm T2 High-Speed Zoom Lens (Sony E, Meters) | 82mm |
| Sigma | Sigma 50-100mm T2 Fully Luminous High-Speed Zoom Lens (Sony E, Feet) | 82mm |
| Sigma | Sigma 50mm T1.5 FF High-Speed Prime (EF Mount) | 82mm |
| Sigma | Sigma 50mm T1.5 FF High-Speed Prime (PL Mount) | 82mm |
| Sigma | Sigma 50mm T1.5 FF High Speed Prime Lens (ARRI PL Mount, Meters) | 82mm |
| Sigma | Sigma 50mm T1.5 Fully Luminous FF High Speed Prime Lens (ARRI PL Mount) | 82mm |
| Sigma | Sigma 50mm T1.5 FF High Speed Prime Lens (Canon EF Mount, Meters) | 82mm |
| Sigma | Sigma 50mm T1.5 Fully Luminous FF High Speed Prime Lens (Canon EF Mount) | 82mm |
| Sigma | Sigma 50mm T1.5 FF High-Speed Prime (Sony E Mount) | 82mm |
| Sigma | Sigma 50mm T1.5 FF High Speed Prime Lens (Sony E Mount, Meters) | 82mm |
| Sigma | Sigma 50mm T1.5 Fully Luminous FF High Speed Prime Lens (Sony E Mount) | 82mm |
| Sigma | Sigma 50mm f/1.4 DG HSM Art Lens voor Sigma SA | 77mm |
| Sigma | Sigma 50mm f/1.4 DG HSM Art Lens voor Canon EF | 77mm |
| Sigma | Sigma 50mm f/1.4 DG HSM Art Lens voor Nikon F | 77mm |
| Sigma | Sigma 50mm f/1.4 DG HSM Art Lens voor Sony A | 77mm |
| Sigma | Sigma 50mm f/1.4 DG HSM Art Lens voor Sony E | 77mm |
| Sigma | Sigma 56mm f/1.4 DC DN Contemporary Lens voor Micro Four Thirds | 55mm |
| Sigma | Sigma 56mm f/1.4 DC DN Contemporary Lens voor Sony E | 55mm |
| Sigma | Sigma 60-600mm f/4.5-6.3 DG OS HSM Sports Lens voor Canon EF | 105mm |
| Sigma | Sigma 60-600mm f/4.5-6.3 DG OS HSM Sports Lens voor Nikon F | 105mm |
| Sigma | Sigma 60-600mm f/4.5-6.3 DG OS HSM Sports Lens voor Sigma SA | 105mm |
| Sigma | Sigma 60mm f/2.8 DN Lens voor Micro Four Thirds Mount Cameras (Zwart) | 46mm |
| Sigma | Sigma 60mm f/2.8 DN Lens voor Sony E-mount Cameras (Zilver) | 46mm |
| Sigma | Sigma 70-200mm f/2.8 DG OS HSM Sports Lens voor Sigma SA | 82mm |
| Sigma | Sigma 70-200mm f/2.8 DG OS HSM Sports Lens voor Canon EF | 82mm |
| Sigma | Sigma 70-200mm f/2.8 DG OS HSM Sports Lens voor Nikon F | 82mm |
| Sigma | Sigma 70-300mm f/4-5.6 APO DG Macro Lens voor Nikon AF-D | 58mm |
| Sigma | Sigma 70-300mm f/4-5.6 DG Macro Lens voor Canon EOS | 58mm |
| Sigma | Sigma 70-300mm f/4-5.6 DG Macro Lens voor Sony en Minolta Cameras | 58mm |
| Sigma | Sigma 70-300mm f/4-5.6 DG Macro Lens voor Pentax AF | 58mm |
| Sigma | Sigma 70-300mm f/4-5.6 APO DG Macro Lens voor Sony en Minolta | 58mm |
| Sigma | Sigma 70-300mm f/4-5.6 DG Autofocus Lens voor Nikon F Mount Cameras | 58mm |
| Sigma | Sigma 70mm f/2.8 DG Macro Art Lens voor Sigma SA | 49mm |
| Sigma | Sigma 70mm f/2.8 DG Macro Art Lens voor Sony E | 49mm |
| Sigma | Sigma 70mm f/2.8 DG Macro Art Lens voor Canon EF | 49mm |
| Sigma | Sigma 85mm f/1.4 DG HSM Art Lens voor Canon EF | 86mm |
| Sigma | Sigma 85mm f/1.4 DG HSM Art Lens voor Sony E | 86mm |
| Sigma | Sigma 85mm f/1.4 DG HSM Art Lens voor Nikon F | 86mm |
| Sigma | Sigma 85mm f/1.4 DG HSM Art Lens voor Sigma SA | 86mm |
| Sigma | Sigma 85mm T1.5 FF High-Speed Prime (EF Mount) | 86mm |
| Sigma | Sigma 85mm T1.5 FF High-Speed Prime (PL Mount) | 86mm |
| Sigma | Sigma 85mm T1.5 FF High Speed Prime Lens (ARRI PL Mount, Meters) | 86mm |
| Sigma | Sigma 85mm T1.5 Fully Luminous FF High Speed Prime Lens (ARRI PL Mount) | 86mm |
| Sigma | Sigma 85mm T1.5 FF High Speed Prime Lens (Canon EF Mount, Meters) | 86mm |
| Sigma | Sigma 85mm T1.5 Fully Luminous FF High Speed Prime Lens (Canon EF Mount) | 86mm |
| Sigma | Sigma 85mm T1.5 FF High-Speed Prime (Sony E Mount) | 86mm |
| Sigma | Sigma 85mm T1.5 FF High Speed Prime Lens (Sony E Mount, Meters) | 86mm |
| Sigma | Sigma 85mm T1.5 Fully Luminous FF High Speed Prime Lens (Sony E Mount) | 86mm |
| Sigma | Sigma APO 50-500mm f/4.5-6.3 DG OS HSM Lens voor Sigma SA | 95mm |
| Sigma | Sigma APO 70-200mm f/2.8 EX DG OS HSM Lens voor Canon EF | 77mm |
| Sigma | Sigma APO 70-200mm f/2.8 EX DG OS HSM Lens voor Nikon F | 77mm |
| Sigma | Sigma APO 70-200mm f/2.8 EX DG OS HSM Lens voor Sigma SA | 77mm |
| Sigma | Sigma APO 200-500mm f/2.8 EX DG Lens voor Canon EF | 72mm |
| Sigma | Sigma APO 200-500mm f/2.8 EX DG Lens voor Nikon F | 72mm |
| Sigma | Sigma APO 200-500mm f/2.8 EX DG Lens voor Sigma SA | 72mm |
| Sigma | Sigma APO Macro 150mm f/2.8 EX DG IS HSM lens voor Canon EF | 72mm |
| Sigma | Sigma APO Macro 150mm f/2.8 EX DG OS HSM Lens voor Nikon F | 72mm |
| Sigma | Sigma APO Macro 150mm f/2.8 EX DG OS HSM Lens voor Sigma SA | 72mm |
| Samsung | Samsung NX 10mm F3.5 Fisheye | 49mm |
| Samsung | Samsung NX 12-24mm F4-5.6 ED | 58mm |
| Samsung | Samsung NX 16mm F2.4 Pancake | 43mm |
| Samsung | Samsung NX 16-50mm F2.0-2.8 S ED OIS | 72mm |
| Samsung | Samsung NX 16-50mm F3.5-5.6 Power Zoom ED OIS | 43mm |
| Samsung | Samsung NX 18-55mm F3.5-5.6 OIS | 58mm |
| Samsung | Samsung NX 18-200mm F3.5-6.3 ED OIS | 67mm |
| Samsung | Samsung NX 20mm F2.8 Pancake | 43mm |
| Samsung | Samsung NX 20-50mm f/3.5-5.6 ED | 40.5mm |
| Samsung | Samsung NX 30mm F2 Pancake | 43mm |
| Samsung | Samsung NX 45mm F1.8 | 43mm |
| Samsung | Samsung NX 50-150mm F2.8 S OIS | 72mm |
| Samsung | Samsung NX 50-200mm F4-5.6 OIS | 52mm |
| Samsung | Samsung NX 60mm F2.8 Macro ED OIS SSA | 52mm |
| Samsung | Samsung NX 85mm F1.4 ED SSA | 67mm |